Comedy Central PDX
Hello Sparky!
A meandering conversation with Hal Sparks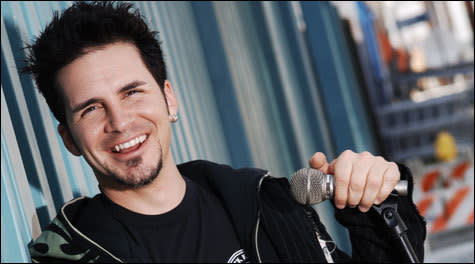 As promised, I managed to finagle an interview with one of the comedians appearing at the Bridgetown Comedy Festival which starts tonight at venues on SE Hawthorne. Ladies and gentlemen, Hal Sparks!
"Now who's Hal Sparks?" my girlfriend asks.
"Oh, well, let's see." I sputter in reply. "He played Michael Novotny on Queer as Folk, he's on Talk Soup, and he's got a metal band called Zero 1."
"Doesn't help," she says.
"He's on VH1's I Love the '80s, and '90s. He's a smart-alecky guy who reminisces about Pac-Man and stuff."
"OK. I think I can picture him."
Sheesh, you'd think I wouldn't have to trot out the dude's resume, but he's definitely a "you'd know him if you saw him" celebrity. At the moment Sparks is in Los Angeles motoring around in his car. I welcome him to the interview by blasting a barrage of feedback into his ear, courtesy of my ancient phone recorder.
HS: Wow, thanks for that!
ME: Uh, just trying to keep you on your toes.
HS: That's a painful place to be. Can you imagine how annoying it would be to live life on your toes?
ME: That's why I was forced to give up ballet lessons. That and I weigh 250 pounds.
HS: You probably just didn't apply yourself. I attended the plus-size ballet last year and it was really spectacular.
Just like that, we're off and riffing. Sparks has never been to Portland before (he does have a lot of Twitter followers here) but he's looking forward to hanging out with his comedic brethren (and sistren) at the Bridgetown Comedy Festival. Think of it: More than 100 comics bopping around, checking out the overpriced tie-dye and hemp clothing up and down Hawthorne!
HS: Most comedians are socially retarded enough to sequester themselves to green room/stage/hotel room, so they probably won't be wandering around much. They might knock on your door in the middle of the night asking for DMT or mushrooms, but that's really rare.
ME: Well, Portland does have more strip clubs per capita than any other city so there's plenty to see.
HS: Spectacular!
ME: Yeah, if you enjoy looking at women removing articles of their clothing to the tune of "Pour Some Sugar On Me" you should be fine.
HS: I'm a huge fan. I'll do some frontline reporting if you need an inside man.
I was highly curious about what dozens of comedians do when they're all congregated in the same place. Do they tell jokes or steal material? Are there comedy cliques? Do observational comics hate prop comics? How does this work?
HS: There's lots of us who came up together through the ranks, all around the same age, and many of them are dear friends, but I never get to see them. We're always in different cities working. That's the coolest part about the festival, all rumors of competitiveness aside, it will be nice to see all the comics I know personally.
ME: Are comics competitive?
HS: They used to be more competitive. There used to be just four TV stations, and if one guy got "the job" everyone else was screwed. Now, if a guy get's a job—and he knows you—you might get another job. There's at least a reason to be supportive.
ME: So you need to pretend to like them and suck up—
HS: Yeah, lots of opportunities to be fake which is really fun.
There was more—much more. We talked about Twitter, web TV, cable access TV, the death of the Borscht Belt, and his upcoming Showtime special. Sparks is very busy so we made plans to acknowledge each others' presence at the festival.
HS: I look forward to meeting you. You sound like Jeffrey Lebowski.
ME: There are a lot of us Lebowskis in Portland. Speaking of which, do you have any Portland-centric material? You might want to brush up on a few beard jokes.
HS: One thing I learned during my four years at Second City is to assume the audience is smarter than I am. I always try to talk to the top of the room.
ME: Yeah, there should be a lot of Comparative Literature degrees in the audience.
HS: I should be OK then.
We'll soon find out. Break a leg Hal! And thanks for bringing your friends to our comedy-strapped community.
Post script: There will be a new comedy club opening in July on SE Ninth and Hawthorne where the Chelsea Ballroom used to be. It's the first West Coast operation from the owners of the Helium Club in Philadelphia. Get ready to laugh Portland! And Hal Sparks is already booked to perform there.
Hal Sparks will be appearing tonight at 7 PM (Thursday) at the Hawthorne Theater, and on Friday at 10 PM at the Bagdad. Probably other places too.