Happy Hour
Happy Hour of the Week
Linger over libations at Bartini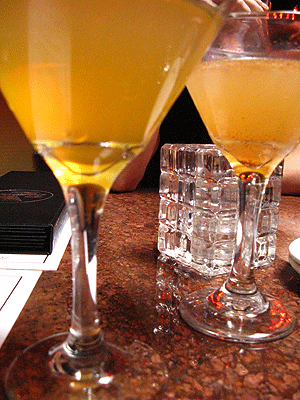 I'll have one of everything, please. It may take a while, but I've got nothing better to do. Northwest drinketeria Bartini—adjacent to Urban Fondue—sports more than 100 martini-glassed cocktail variants, from the aptly named 007 (gin and vodka shaken with a splash of vermouth and a twist of lemon) to the frilliest of lady drinks (see, oh, perhaps the entire "Decadent" section of the menu). The drink list is so immense that even the least adventurous imbiber will find something they'll love. With far more than basic boring beer and watery well drinks, Bartini's happy hour is a staggeringly sumptuous event (4-6:30, and all day Sunday and Monday). So if that's not what you're looking for, then read no further. But if a legion of well-crafted cocktails is what you're after, venture on!
Bartini's drinks normally fall into the $7-8 range, which is about average for an upscale joint. But during happy hour, the price meets you halfway (because isn't free the ultimate goal?): all drinks are half off. $3.50-4. For the price of a non-happy hour, palate-numbing gin and tonic, you can order, for example, my personal favorite: the Crème Brule (vanilla vodka shaken with hazelnut, orange, and butterscotch liqueurs and cream, $3.50—go ahead and laugh). It tastes exactly like the opulent custard it's modeled after, down to the graham cracker crust sprinkled over the top. Mmm.
Two drinks per person is about right, and if you play your cards right, you can get those plus a bite to eat for around $10. Every item on the happy hour food menu looks appealing and tastes even better—from plain ol' bar stool staple, chips and dip (or, as the menu declares, "black pepper chips with blue cheese dip," $2), to ahi tuna sliders with wasabi aioli and pickled ginger ($4), to the house special, a pot of smoked cheddar fondue to share with cheese-loving chums ($6-$11.25).
A word of warning, however: Bartini is always busy during happy hour. You may have to wait for a table, and you may have to wait for your drinks. But your patience is rewarded. The staff is friendly (this wasn't always the case), the menu is six pages long, and the slow pace complements the dusky atmosphere and the velvety drinks. Bartini is like a piece of the Pearl dropped into the upper reaches of NW. It's ideal for those evenings when you have nothing better to do.