bistro
Bistro Concept Coming to West End
Former McCormick's Chef Bill King plants his flag in the Indigo building.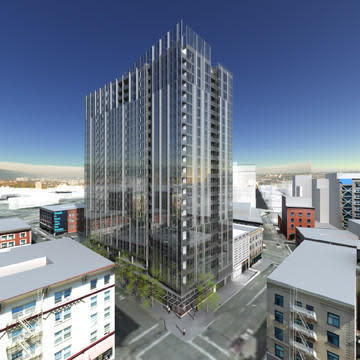 The OLCC application has been hanging in the window for months so this wasn't a big surprise, but details regarding a future bistro restaurant in West End's windmill-anointed Indigo building emerged today as our pals from Watershed Communications sent out the following in a press release that landed in my inbox circa 4:36 pm.
"Opening summer of 2010, in the gorgeous platinum LEED-certified Indigo Building, Pinot American Brasserie is positioned to be the heart and hub of the West End, a downtown neighborhood that's a nexus of business, entertainment, shopping and tourism.
At the helm is Executive Chef Bill King, long-time leader of culinary development for McCormick & Schmick's. King had a distinguished tenure in this successful restaurant group, but in his soul, he's a chef and restaurateur who started his Portland cooking career in 1981 with a café and charcuterie shop called Savoir Faire at Portland's Yamhill Market Place, the city's first urban public market. Chef Bill King was way ahead of the curve, making his own charcuterie, sold from his tiny shop at the market, and buying farm direct produce.
Pinot's menu is a reflection of traditional French brasserie fare but uses ingredients grown and raised in the Pacific Northwest. Variety and value are woven throughout; entrées will be mostly under $25, with the majority between $15 and $20, and will include Beef Short Ribs "Osso Buco Style," Dijon Crusted Wild King Salmon and Pancetta-Apricot Glazed Pork Chop."


This is great news for the West End neighborhood, perhaps the only Westside enclave that has managed to thrive throughout the economic downturn. And while this news will be bittersweet to some as this spot was once rumored to be the future home of Piggins, a charcuterie restaurant by sausage master Greg Higgins, I'll be happy to have steak frites just six blocks from my house. Now if only someone would open a good breakfast place.