Frankie's
Frankies A Perfect Fit in PDX
Big Apple big shots Frank Falcinelli and Frank Castronovo plan PDX location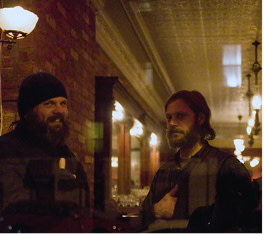 As first dropped in Kim Severson's Wednesday story on chefs who love to smoke dope, and then elaborated later that day by Portland Plated friend Erin DeJesus at Eater.com, New York City restaurateurs Frank Falcinelli and Frank Castronovo have been in town a few times recently with the intention of opening a Portland restaurant. The Brooklyn-based duo own four temples of fine eating, drinking, and sipping in New York, including Cafe Pedlar, Frankie's Spuntino 457, and Prime Meats.
Today, DeJesus reports that the Franks are eying the adjacent space next door to Stumptown Coffee Roasters' original cafe and roasting facility on 44th and SE Division. This marriage of Portland and Brooklyn makes perfect sense for many reasons. First, Stumptown coffee is served at all four of the Frank's New York ventures—including the Cafe Pedlar cafes, which are among the most popular coffee shops in New York City. Second, Stumptown owner Duane Sorenson is said to be very close to the Franks. Third, like Sorenson, both of the Franks have beards and look like a cross between bicycle messengers and biblical characters. Fourth, most Southeast Portland residents also look like a cross between bike messengers and biblical characters. Fifth, take a quick look at the Prime Meats menu and tell me that it doesn't appear to be the product of a collaboration between Portland chefs Chris Israel and Elias Cairo. Sixth, there are no real destination restaurants above 39th on Division Street. Seventh, New York City is still in love with Portland and has been for three years or more. Stumptown and the Ace Hotel have opened shop in New York. Isn't it time that New York gave back?
That's it. With seven good reasons these guys will kill it in Portland, I rest my case—having run out of reasons. The next time you're in Brooklyn, check out these great restaurants. While you're there, tell the Franks to hurry up and open already.