Refining Rustic
July Takes Shine to Talented Trio
Chris DiMinno, Michael Hanaghan, and Kristen Murray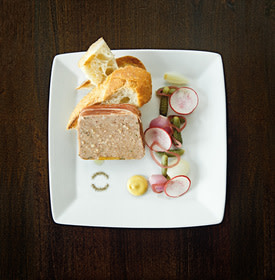 You'll have to forgive me today for being sleepy, but I've just returned from Aspen, Colorado where I enjoyed four amazing days at the Food and Wine Classic in Apsen, which proved itself to me this weekend as the best food and wine event in the country—perhaps even the world. I've been lucky to attend many culinary festivals in the US and Europe, but I have honestly never had more fun. I'm going to write a series of posts highlighting my own Rocky Mountain highs throughout the week starting this afternoon. Please stay tuned.
In other news, the July issue is now available to subscribers and online. For this months installment of Portland Plated, I showcase the simple delicacies of three extremely talented and pedigreed local chefs: Chris DiMinno of Clyde Common, Michael Hahaghan of Ten 01, and Kristen Murray of Fenouil. Why these chefs? Because they, along with Castagna's Matt Lightner, represent a newer wave of Portland chefs who I believe are changing the normally rustic face of Portland dining. Don't get me wrong: I love rusticity, but panache makes me feel pretty good too.
Much has already been written of Kristen Murray and deservedly so. She is without doubt the best pastry chef in Portland. When I sample Kristen's playful concoctions, I often rediscover ingredients as if it were the first time I've tried them. She is truly a master of pure flavor. And while her constructions can often be quite elaborate, they are coherent. There is no decoration for decoration's sake.
Chris DiMinno has been quietly reinventing Clyde Common's cuisine since taking over last year. And while many of his efforts have been below the radar (Clyde is after all a locale that's nationally renowned as Portland's creative cocktail epicenter), DiMinno is a talent, having worked with great Dan Barber at Blue Hill at Stone Barns outside of New York City. In fact, Chris was recently invited by Dan Barber as the only Portland chef to cook at the James Beard Awards in New York City in early May.
I've been spending a lot of time in the Ten 01 dining room recently, and that's all because of its recently anointed executive chef Mike Hanaghan. Mike took over Ten 01's kitchen when chef Benjamin Parks left in November. In my article, I write about Hanaghan's pâté not because I believe pâté to be a zeitgeist of culinary greatness, but because it showcases Hanaghan's finesse in making magic out of dishes that are normally quite ordinary and even unforgettable in PDX. It also underscores my own personal feeling that the majority of charcuterie in Portland is lackluster and needs to go away . Don't get me wrong, I love chicken liver pâté and pork rillettes as much as anyone, but do they really need to be on every Portland menu? As for rustic pâté, it's often little more than pistachio-studded meatloaf. this just isn't the case with Mike Hanaghan's.