Mixology 101
Patriotic Potables
Try a festive cocktail this weekend.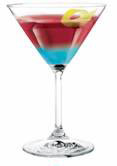 Everyone's favorite summer holiday—Fourth of July—is this weekend, and it's right up there with St Paddy's Day and New Year's as an occasion to imbibe. If you're burned out on popular domestic lagers, you can always go for a local brew (it is Oregon Craft Beer Month after all). But we recommend trying a patriotic cocktail instead. The good people over at Three Olives vodka have again made our day with some inventive star-spangled ideas.
Take the Roman Candle for example:
3 oz. Three-O Berry Vodka
½ Oz. Cranberry Juice
Dash of Grenadine
½ oz. Blue Curaçao
Shake vodka, cranberry juice and grenadine in a shaker with ice. Strain into martini glass. Pour Blue Curaçao gently down the side of the glass so it comes to settle on the bottom.
See? With just a few ingredients you can get an All-American cocktail. If you're feeling fancy, garnish with the usual cherry, maybe a couple of blueberries on a toothpick or even a tiny wedge of watermelon for that Martha Stewart touch.
Nothing says Independence Day (or the Runaways) like the Cherry Bomb.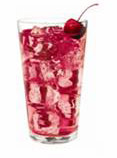 1 ½ oz. Three-O Cherry Vodka
4 oz. Ginger Ale
Splash of grenadine
Mix in a glass filled with ice and garnish with a cherry.
You could take this general recipe and run with it: alcohol+plain-colored mixer+grenadine = festive red drink.
If you're having a fancy soiree (or if you decide to spend more money on booze than on meat at your barbecue—hey, it happens) you could always serve three options of cocktails: a big pitcher each of red, white, and blue drinks.  Perhaps a Strawberry Daiquiri (red), Piña Colada (white), and Blue Bayou (a fruity blue drink made of vodka, blue curaçao, pineapple, and grapefruit juice all blended together).
So, drink up and cheers to America this weekend!