Pour
The New Order
Small roasters make big waves in Portland's coffee scene.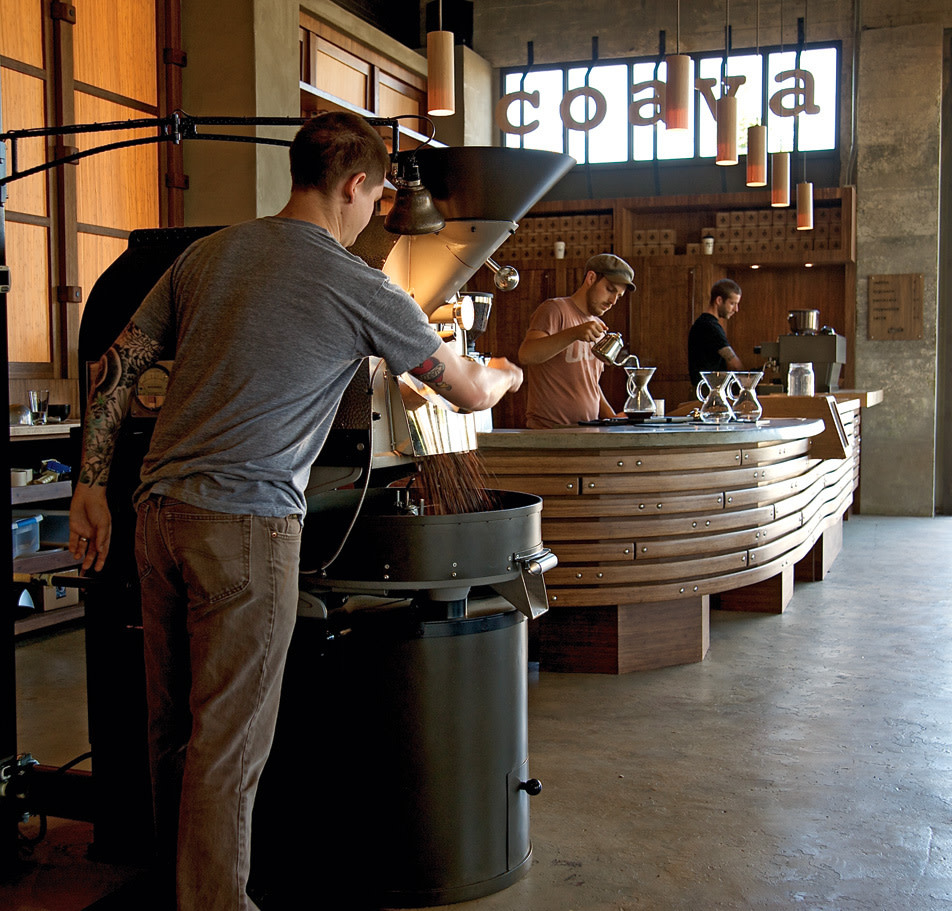 FOR A DECADE, Portland's independent coffee roasting horizon has been dominated by one iconic ship: Stumptown Coffee Roasters. As the company added a Portland brand to the national conversation about specialty coffee buying, roasting, and preparing, it slowly began docking in many a foreign port: Seattle, New York, even Amsterdam. But locally, as Stumptown created a new level of coffee appreciation and enthusiastic experimentation, it also drew a small flotilla of independent coffee roasters that are offering plenty of friendly competition. With an unflagging focus on seasonality, education, and collaboration, this new cadre of small-batch roasters has injected our city's existing coffee obsession with fresh energy. Here are five of our favorites for flavor, style, and ambiance.


Coava Roastery and Brew Bar
The best coffees in Portland, period. A small selection of meticulously sourced, single-origin beans from around the world, roasted by fanatics.
What you'll find: The coffee shop is integrated into the showroom for design company Bamboo Revolution. The clean-lined, modern space, like the coffee on offer, is balanced by the warmth and subtlety of the raw materials it is composed of.
You won't find it elsewhere: Coffee flights, so you can sample coffees side-by-side without all the distractions and lectures of formal cuppings.
Water Avenue Coffee
Small-batch, seasonal coffees prepared on a vintage French roaster.
What you'll find: Enormous blue neon letters spelling COFFEE hang over the bar and beckon visitors—this café is a modern nod to the working-class coffee shop of yore.
You won't find it elsewhere: A serious commitment to education, with an on-site training bar for consumers and clients.
Sterling Coffee Roasters
A small, oft-changing menu of recently harvested single-origin coffees, some of which are roasted right in front of you, one pound at a time.
What you'll find: Impeccably dressed baristas, thick-striped wallpaper, and carefully curated music (Nina Simone is a favorite) make you feel comfortable enough to try something new. A whimsical chalkboard features surprisingly accurate flavor descriptions of the day's coffees, such as "edamame brioche" and "tangerine carob."
You won't find it elsewhere: Gorgeous, screen-printed take-home items, including sophisticated glass canisters full of whole-bean coffee and growlers for cold-press coffee to go.
Heart Coffee and Roasting
Open for less than a year, Heart has focused on single-origin coffees and experimenting with technique, such as Japanese siphon technology.
What you'll find: Stylized science lab. The standout interior design of this indie café showcases the roasting machine, surrounded by old metal file cabinets, clamp lamps, and vintage lab posters of biological specimens. The industrial-chic look is softened by delicate, Finnish-designed ceramics and the classic comfort of rustic Random Order pies.
You won't find it elsewhere: Heart is one of the only shops in town with a siphon bar—a mad-sciency system in which heated water is suctioned upward through a glass tube to steep the coffee grounds before filtering the water back down.
Public Domain
One of the few places downtown to get a perfect espresso or sample a single-origin pour-over (when water is poured over coffee grounds in a filter). PD is the flagship café for Coffee Bean International, where they experiment with new roasts and ways to refine brewing methods.
What you'll find: Upscale demonstration kitchen. The well-lit, low-countered space invites conversation and lets you observe the knowledgeable, friendly baristas' every move.
You won't find it elsewhere: The Slayer, a much-touted new espresso machine (the only one in Portland), which feels like the coffee world's version of a spaceship-luxury yacht hybrid.