What to Do
Tiki Weekend!
Try a Polynesian Potpourri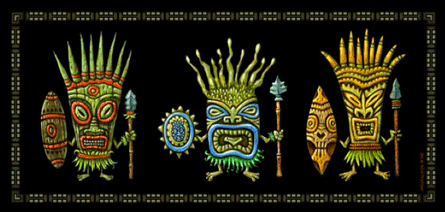 Just in case you didn't get enough tiki at last weekend's Tiki Kon festivities, we've got a whole slew of Polynesian cultural quests for you, the dedicated island lover.
Start tonight at the opening reception of Elroy Artspace's Atomic Tiki group exhibition. More than just an art show, Atomic Tiki offers a peak into the larger cultural phenomenon whose icons include grass skirts, wooden masks, risqué native pin-ups, and that whole dreamy tropical island motif that was especially popular in the post-war years. Elroy Artspace is usually open 10-2, Tuesday through Friday, but tonight they will be open during First Thursday, from 5-9 PM.
Tomorrow night, grab dinner after work at Big Kahuna in St. Johns. The menu features local Hawai'ian-style meats with rice and, if you get the entrée meal, two sides (pick from tropical fruit, chili, or Paniolo beans*). I recommend the Kahlua pig rice bowl, or the entrée if you've got a big appetite. It's just rice and pulled pork, but with the BBQ mild sauce (my fave), it's flavor heaven. Their sauces are award winners for a reason.
Once you've stuffed yourself with an adequate portion of local kine grinds**, head over to The Alibi on N Interstate for some quality tiki time. Here you'll experience the vestiges, in all their gaudy glory, of the 50s tiki culture phenomena you learned about at Elroy Artspace. Think of it as cultural field research. Order yourself up a super-sweet tropical cocktail, and get down with one of the rowdiest karaoke crowds in town.
On Saturday, grab an early dinner at Noho's Hawaiian Café. Get there at about 5pm—it'll give you enough time to eat and enjoy before your next task. The portions at Noho's are huge, truly Hawaiian-sized, so don't be put off by the daunting double-digit pricing. Anything I could possibly recommend is going to be ono***, but if I were you, I'd order the teriyaki steak. In fact, maybe I'll just see you there.
Head over to the Keller Auditorium after dinner for the 7:30 showing**** of South Pacific. A World War II-era romantic comedy drawn from Michener's Tales of the South Pacific (1946), the musical's setting is, naturally, an island in the South Pacific. The beachy set and retro costuming (vintage swimsuits, classic sailor garb) will make you feel right at home. That is, if your home was a Polynesian island in the 1940s. Musical highlights include Broadway hits "Some Enchanted Evening," "Bali Ha'i," "I'm In Love With A Wonderful Guy" and "I'm Gonna Wash That Man Right Outta My Hair." And, as a special bonus to all of us ladies, I've been told that the actor playing the lieutenant (younger lead male) is easy on the eyes.
If you're not totally tiki'd out by this point (and I'm betting you will be—run time for South Pacific is three hours!), head over to the Thatch Tiki Bar. It's far more low-key than The Alibi, and the kitsch is at a more manageable level. Grab a post-musical Mai Tai and let the ambient music carry you and all your worries away. Maybe tomorrow you'll dig up your bathing suit and hit the beach at Sauvie's Island. Yeah, that sounds peaceful.
Finally, I'll leave you with a tiki teaser for later this month: Hot Tiki Hell, a modern burlesque show at the Whiskey Bar. Tiki burlesque? That's all you need to know.
"cowboy" beans
*Hawai'ian food
*really tasty
*there's also a /info:37046/">showing at 2pm, if you'd prefer to do it before dinner.