loose ends
Roll Out the Barrels!
A modest roundup of short subjects from the Bar Pilot bag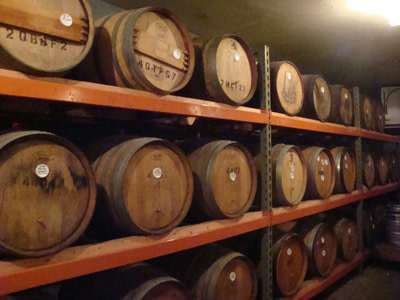 ITEM: I was lucky enough to sample several of the sour beers created by Cascade Brewing's Ron Gansberg in advance of the opening of the new Cascade Barrel House at 935 SE Belmont St (which should be any day now). And they are incredible. What Gansberg has done with his mix-and-match, cut-and-paste barrel-aging and ale-blending approach is to produce a whole line of brilliantly nuanced beers whose flavor profiles are much, much narrower than the standard lager, pilsner, amber, porter, and stout designations. By taking fresh cherries, raspberries, blueberries, oranges, and apricots, and introducing them to existing ales and then aging them for six months at a time, Cascade Brewing has embraced chaos theory and is on the threshold of establishing a beer-tasting aesthetic that's going to be very similar to that of wine. More subtle, more organically unpredictable. My prediction? It's going to be big.
ITEM: Another edition of MusicFest NW has come and gone. The best show I witnessed was the sensational and soulful Bellrays who were a face-melting epiphany as always. And for variety's sake, it's hard to go wrong with the evil speed metal of Toxic Holocaust at the Satyricon and the grimy Black Sabbath grind of Red Fang paired with the more delicate sensibilities of a resourceful troubadour like mbilly segueing into Big Freedia's super-freaky butt-shaking cavalcade.The diversity angle worked in a big way this year.
ITEM: Just had a divine cocktail over at Santeria, the Mexican restaurant that's attached to Mary's Club (formerly El Grillo). It's called Llorona, and presumably it's named after the Latin legend of the crying ghost woman who haunts river banks searching for her missing child. The drink itself is a spirited blend of horchata (rice milk with assorted spices), cinnamon, and a hefty pour of Hatian gold rum served on the rocks in a pint glass for $7. Poverty stricken citizens may want to opt for the $6 version with Monarch rum, but that's not how I roll. It's simple, sweet, spicy, and satisfying, and the ideal accompaniment to a plate of carnitas.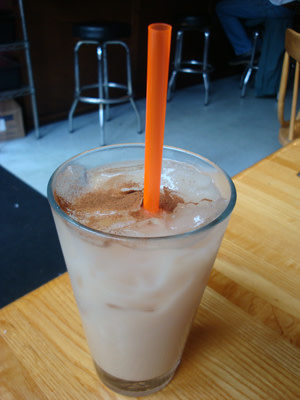 ITEM: A note from retro hepcat deejay Drew Groove informs me that the SE Morrison space that once housed Maiden in the Mist (later abbreviated to the Maiden) just had a soft-opening shindig for its latest incarnation, the Star Bar. Not sure about the menu, but if they've got the good taste to employ Drew Groove, then it will be a certain stop on a near-future ramble.
ITEM: A congratulatory shout-out to my pal Michael Carothers and his Japanese bar/eatery Miho Izakaya on N Interstate Ave. They've now been open for one year and it looks like the best is yet to come. A Happy Hour report is in the offing. Keep the saké warm!