Booze News
Spirited Away
Lee Medoff to run Bull Run Distillery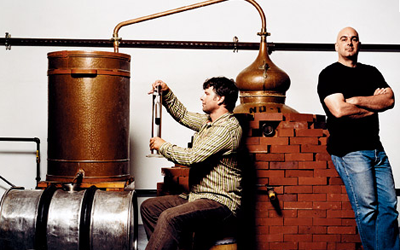 Lee Medoff has been with House Spirits Distillery since its inception in 2002 and as cofounder, helped develop some of its trademark potables including Aviation gin and Medoyeff vodka. Now, after establishing House Spirits as a major player in the artisan liquor business, he's moving to the dark side. With favorable winds and good luck, he'll open Bull Run Distillery in late November, a fledgling operation that will specialize in "dark spirits" like whiskey and rum. In addition, his own Medoyeff vodka will be part of the inventory.
The new venture is not due to any rancor between Medoff and his House Spirits partner Christian Krogstad. In fact, it's because of their success that Medoff feels empowered to try something else. "Aviation gin is available everywhere from Berlin to Sydney," Medoff tells me. "But I think the dark spirits—rum and whiskey—represent the future of craft distilling."
Bull Run Distillery, like House Spirits, will have a tasting room and retail space open to the public (NW 23rd Ave and Quimby St), and will periodically turn out small-batch artisan spirits. Medoff is installing two 800-gallon stills to up his production numbers. "This way we'll be able to produce five barrels of rum or whiskey at a time," he says. As for turning his attention to rum, a spirit much maligned as a fool-proof ingredient for cocktails favored by amateur imbibers, Medoff vows to bring a level of sophistication to his creations.
"Besides, I really like rum," he confesses. Stay tuned for further developments.