Foodportunity
A Downtown Dinner Series — Part Zwei
Grüner continues its "Tuesdays on the Stammtisch" dinner series with menus featuring fall flavors and guest chefs.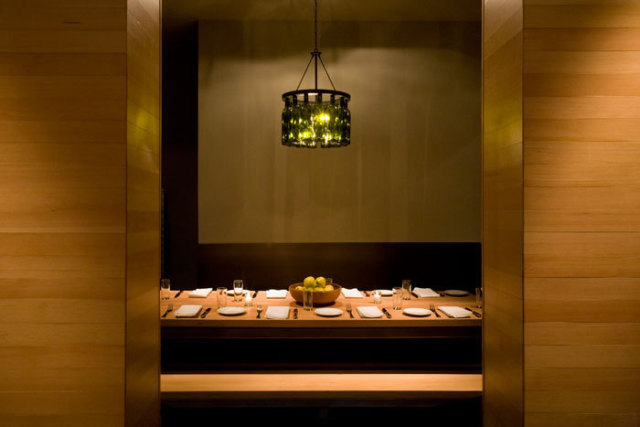 Christopher Israel, chef/owner of Grüner is having some friends over for dinner and you're invited. After a previous dinner series he did himself at his Cascades-meets-the-Alps establishment proved popular, he decided to have another go at it, but this time the menus are determined by guest chefs: Robert Reynolds, Teri Gelber, and Kevin Gibson. All three of the chefs participating in the "Tuesdays on the Stammtisch" Fall Dinner Series happen to be friends with Israel, but he claims the criteria for the selection was specifically based on two things: 1) He admires their cooking; 2) They either aren't currently attached to a restaurant or they own a restaurant that only serves breakfast and/or lunch i.e. they are free to hang with him on a random Tuesday night.
The only "guidelines" for each guest chef's menu is that the general theme is a take on the Alpine style cuisine that Grüner is known for: an edible adventure that travels from the Black Forest, through Germany, Austria, Hungary, and Romania, to the Black Sea.
Other than that, they can pretty much just go with their bad selves. The guest chefs determine the makeup of the night's feast and may actually help cook a course or two, but they also spend much of the evening chatting with the guests — a remarkably intimate experience if you consider that the Stammtisch (family table) where the meals take place only seats 12.
Alas, the Reynolds event has already passed, but next up is Gelber, who co-authored a few cookbooks for the famed-L.A. artisan bread behemoth, La Brea Bakery, as well as the James Beard-winning Sunday Suppers at Lucques. Here are the details for her October 12th debut:
Menu: "A sort of Hungarian/Bohemia theme," says Israel. Think wild mushroom strudel, oxtail consommé with marrow dumplings, and a Hungarian "Antipasti," featuring pickled peppers, cured meats, and those fabulous savory spreads that pair mild cheese with herbs and spices. But that's only a sneak peek. Regardless, this Northern European cuisine is the perfect fare for a foodie in the fall — elegant and innovative, and yet also hearty and comforting.
Cost: $100 per person, includes wine & gratuity
RSVP: Call for reservations ASAP — 503.241.7163
The third act in this series will take place November 9th, and will feature Gibson, chef/owner of Evoe, taking diners "on a journey from France, through the Alps, to Italy," says Israel. For more details, check out the Grüner website in mid-October.
"Prost!", y'all.