Holiday Food
Kenny & Zuke's High Holidays To Go
This Southwest Portland delicatessen has your mobile Yom Kippur and Rosh Hashanah noshing needs covered.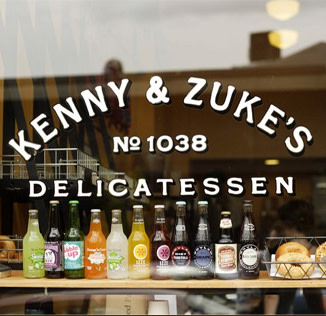 L'shana tova! If you're observing the upcoming Jewish High Holy Days but are too busy to cook, you can get all your traditional food favorites at Kenny & Zuke's, the downtown eatery that a writer for Gourmet named one of two in the U.S. that represent the future of the Jewish delicatessen. Dine in at the restaurant or place a take-out order 48 hours in advance for everything from brisket pot roast, honey-glazed whole chickens with apple stuffing, and salmon strudel with spinach and mushrooms, to tzimmes with prunes, potato-wild mushroom kugel, round or braided challah, honey cake, and apple pie. You can also get Kenny & Zuke's standard deli dishes, like matzoh ball soup, chopped liver, bagels with lox or whitefish, macaroons, and cheesecake.
The most important of all Jewish holidays, the High Holy Days (also Yamim Noraim? or the "Days of Awe"), begin this Wednesday, September 8th, at sundown with Rosh Hashanah and extend through Yom Kippur on September 17-18. Rosh Hashanah, the Jewish New Year, is a time of family gatherings, special meals, and sweet treats that marks the beginning of a ten-day period of prayer, self-examination, and repentance, culminating on the fast day of Yom Kippur, the Day of Atonement.
Although I grew up a far-from-religious hippie kid, my father is Jewish, and let me tell you: Jewish holidays are all about food — very specific, symbolic foods and lots of them, as well as the avoidance of other foods. On Rosh Hashanah, for example, you should just say no to nuts, mainly because the numeric value of the Hebrew word for "nut" (egoz) is the same as that for the Hebrew word for "sin" (chet). Well, actually, it's not exactly the same, but it's really close, and since Rosh Hashanah is also technically the Day of Judgment in which God decides who shall live for one more year, who shall die, and who has 10 days until Yom Kippur to repent and become righteous, a little pistachio paranoia is excusable.
Whether you're one of the faithful or just one of the culinary curious, Kenny & Zuke's has you covered.