LATE NIGHT
Couture Tacos on Northeast Alberta
The new-ish Cruzroom's Taco Lab contributes to the local art of late-night nibbles.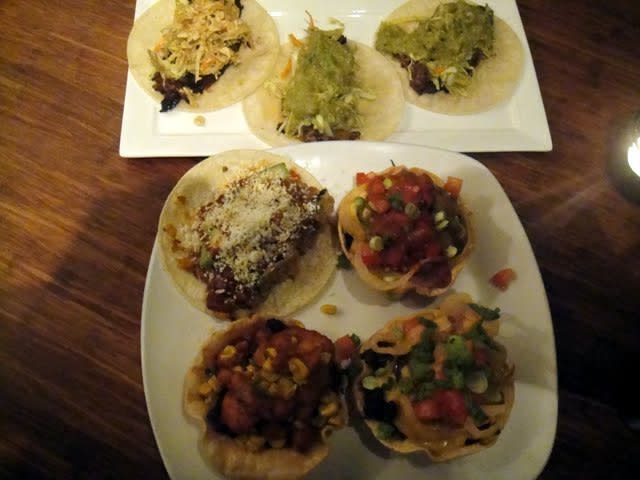 Last night I left work at 10:30 p.m. and I was exhausted and starving and just this side of drunk off of one beer; but instead of heading home to eat a bowl of carrots and pickle relish (pretty much the entirety of my current food stores), I decided to pop over to the latest barfé (bar and café; seemed prettier than barfeteria) to land in my Alberta Arts 'hood: the Cruzroom and their Taco Lab.
Located at 2338 NE Alberta, in the chic'd up diner space that use to house Francis (props to the peeps at Eater PDX for chronicling that former brunch heavyweight's masterful implosion), the Cruzroom offers a satisfyingly simple menu:
1) Creative cocktails crafted with local, state, regional, and American spirits—in that order.
2) Beer—the cheap kind, the good kind, and the cheap and good kind.
3) Tacos—10 unique options that are explicitly directed at carnivores or herbivores.
As for my actual experience of the food… The corn tortillas—available in their traditional form as well as a thick, crispy cup—are spot on. But while the actual flavors of the fillings in the flesh versions are solid, an overabundance of the good stuff causes the taco as a whole to miss the mark. The ideal taco consists of little more than a small handmade corn tortilla and a dab of succulent meat, with maybe a pinch of tangy slaw for texture and a drizzle of a basic salsa for heat. The Lab's Green Meanie with its slow roasted chili verde pork or the Owner with its chocolate mole chicken may sound simple enough; but, in reality, a wealth of fancy sauces and toppings sort of overwhelm the main event.
In truth, the real highlight here is the veggie versions. With a homemade smoked cheese sauce and deep-fried onion strings, the Not-Your-Taco (Nacho Taco) is a salty/sweet delight. And the chunk of crispy haulomi cheese in the Broken Bean is an awesome alternative to overplayed tofu or tempeh.
Regardless, it's all hearty and affordable fare that hits the late-night spot, and my humble verdict is that it's definitely worth checking out—they're open until midnight or 2:30 a.m. every night.