New Bars
First Impressions
Catching up with the latest locals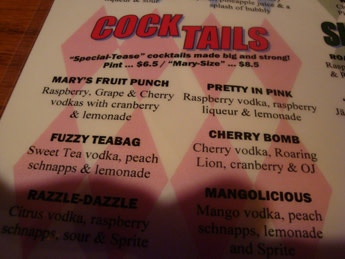 So many bars, so little time to linger. Rest assured drinking buddies, that I have been scrambling like Fran Tarkenton trying to patronize as many of Portland's newly minted watering holes as is humanly possible. At this point I'm strongly considering the formation of a Bar Pilot street team to keep me apprised on bar openings and closings. It's just too much for one simple man (and heaven knows I'm nothing if not simple). Now that I'm done wallowing in self-pity I'll attempt to give you an idea of the places I've been, the drinks I've drunk, and the drunks I've met.
Circa 33 The two bars that have taken over the SE Belmont space of It's a Beautiful Pizza may be joined at the hip, but they cater to different clienteles. Circa 33 is the tonier of the two, and indeed it bears a striking resemblance to North 45 (same ownership) a NW spot that's built a loyal following through a combination of kitchen competence, a prodigious selection of exotic beer and spirits, and neighborhood pub bonhomie. The lofty wall of liquor behind the bar is a welcome touch, a smart way to let customers know that they're serious about spirits. My pot roast sandwich on a hoagie ($10.50) was expertly cooked and the horseradish cleared my sinuses in nothing flat. Circa 33 seems to be walking a line between casual drinking joint (despite the lengthy list of pre-Prohibition cocktails like the Corpse Reviver and the Monkey Gland) and destination dining. Thumbs down to the bartender's taste in music. Pssst! It's been scientifically proven that no one actually likes smooth jazz.
Hall of Records The bohemian younger brother of Circa 33, is the Hall of Records, a modest hole in the wall that offers patrons the opportunity to peruse and sample sounds from a decent catalog of vintage jazz, funk, and reggae vinyl while sipping some excellent regional suds from Laurelwood, Upright, and more. Basically, it's a hipster version of Pop's Chok'lit Shoppe with a couple couches and handy turntables. Eats are limited to the ubiquitous salads and sammies.
The Globe Another Belmont newbie that alternates between empty and chockablock with condo swingers from across the street for whom it serves as a Regal Beagle-type hook-up parlor. You already know the layout: an open garage door leads to a gently artified industrial rumpus room complete with shelves full of board games. The food/drink choices are abundant (three menus!), but don't overlook the house specialty pizzas. They're surprisingly light and chewy (dough made daily!) with scads of artisan options for carnivore and veg-head alike. Happy hour from 3-6 and 10 to close.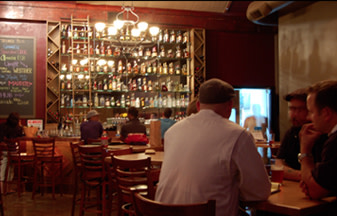 Hamburger Mary's The abundance of "flair" here reminds me of a cross between a downmarket TGI Friday's and a more flamboyant Bob's Big Boy. The burgers are impressively hefty (though a bit pricey at $8-13). Happy hour is 3-6 daily which covers $1 off cocktails and appetizers. Drinks are large, easy drinking, and apparently geared toward sorority-house lushes. And for $5 you can cram a trio of fried Twinkies with raspberry puree and whipped cream into your pie hole. Do it.
Star Bar My friend Lucy and I were the only customers when we stopped in the other night, but the former home of Maiden in the Mist on SE Morrison has the same funky decor (including black velvet paintings) and non-brooding darkness that's made Dot's such a perennial favorite. According to Josh the manager, everything from the kitchen is derived from the freshest and healthiest ingredients. That's cool, but I'm even more excited by the prices—nothing over $9.50. The sliders ($3, but only $1.50 during Happy Hour 4-7) come in classic beef, Caribbean pork, and white bean and potato varieties. The first two were sensational, but the veggie version was Mush City. Someone on the menu planning committee is a rock nerd: all the cocktails are named for Big Star songs; Back of a Car, Mod Lang, September Gurls, etc. And that means extra points in my book!