New Bars
Fresh Kicks
442 serves up sandwiches, suds, and soccer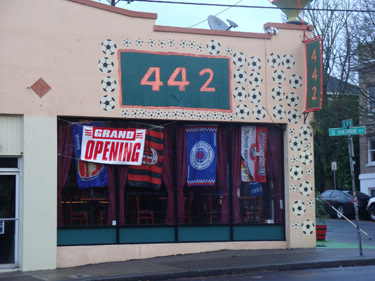 Some guys were born to be publicans. Bosnian bar owner Muhamed Mujcic-Mufko is such a man. It takes the wiry, snow-haired proprietor of 442 on SE Hawthorne nearly two seconds to welcome a stranger to his small, dark-wood furnished pub, with a hearty bellow of, "Hello my friend!" Once introductions are made, he proudly tells me about his establishment ("Is nice place"), the menu ("Best food in town"), and the beer ("Not 16 ounce—we have 24!"). On the wall three large flat screens are showing sporting events. A colorful assortment of soccer jersies and team pennants add jaunty flair to the already athletic ambiance.
For those oblivious to international sport, 442 is a soccer-themed bar and the name refers to 4-4-2, the most common player formation in the game. The bar sits in the former location of the Taste of Europe market (which Muhamed also owned) and it looks like it could hold perhaps 50 people, tops. It's empty at the moment, but Muhamed assures me that the place was packed just the night before. Soccer is the bar's lifeblood and there are nearly two-dozen satellite channels on tap dedicated to that end. Whether it's Tottenham vs Bremen, Stuttgart vs Koln, or Real Madrid vs Ajax (not to mention American Major League soccer tilts, including the Portland Timbers), chances are you'll find your match as well as a cadre of fellow devotees with whom to cheer, curse, and drink.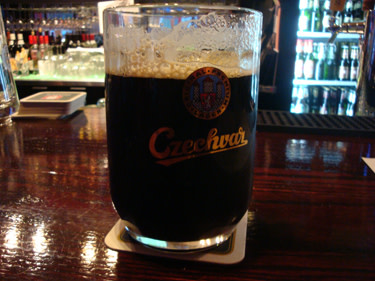 As Muhamed himself boasts, draught beers (Laurelwood Treehugger Porter, Ninkasi IPA, and Deschutes Black Butte Porter are among the locals) are served in thunderous 24-ounce mugs for $4.50. There are another 20 or so brands by the bottle, a respectable wine list, and a full bar. I ask about Happy Hour and I'm told, "All day is Happy Hour!" What Muhamed means by that is that there isn't really a Happy Hour, but his prices are more than fair—and if you don't like them you can watch your soccer someplace else. And that would be a tragedy, because the food at 442 is fairly awe-inspiring.
I order a grilled-cheese sandwich with a side salad ($6.99). Muhamed calls back to the kitchen "grilled cheese for nice guy!" A few minutes later I'm served the tastiest (and most offbeat) example of this dish I've ever encountered. The sandwich is not grilled. The round, Bosnian lepinja bread is baked in-house and it's cloud-soft and springy, with a delicate golden crust on top. Inside there is provolone, feta, and parmesan melted into a warm, gooey blanket, with a splash of olive oil, fresh tomatoes, and a layer of ajvar, a piquant relish made from red peppers, eggplant, and garlic. Muhamed watches me tear into this amazing sandwich with the enthusiasm of a hyena and smiles. "Told you is good!" he says. The salad is drizzled with a sweet balsamic vinegar, a light dusting of parmesan, and more olive oil. What could have been a mere plate decoration is simply sensational in its own right.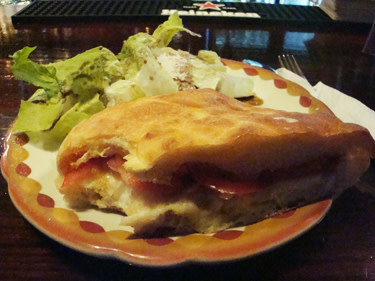 Perusing the menu I stumble over entries such as ?evapi (fresh ground beef and lamb patties), Šiš-?evap (beef kebabs), Su?uk (traditional Bosnian smoked sausage), and Peka, which I'm told is the finest cut of beef that gets dried and smoked, Fear not vegetarians! There are five different sandwiches, including roasted eggplant, and roasted pepper, as well as cheese plates, salads, and spreads for your non-fleshy nourishment. Most entrees ring in between $6-12. "Is all good food," Muhamed announces. "Fresh and healthy."
I imagine 442 is a jumping joint indeed during a rowdy soccer match and for local enthusiasts, this is welcome news. But it's also a very cozy, friendly space, with swift, accommodating service, and a strange, bountiful menu that demands to be explored. Goal!!!!!