Cheap Date
A Budget-Friendly Bistro for Budding Romance
Thanks to Savoy's new chef, new (and long-time) lovers can eat well, without having to cash in their 401(k).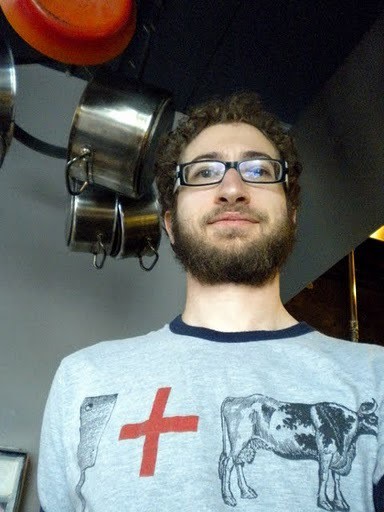 I just found out that Southeast Portland's Savoy Tavern & Bistro —one of my favorite go-to eateries both for its cozy, intimate ambiance and tasty, affordable "American" cuisine—has a new chef: 28-year-old Ben Stern, formerly a cook at Savoy itself, as it happens. Stern took over the top spot after working the line for a year-and-a-half, and then "convincing" owner Peter Bro that he was the man for the job when the former chef left.
"He's been putting out some formidable dishes while staying true to our Midwestern roots," says Bro, who also owns nearby broder and Aalto Lounge, and co-owns Bar Bar at Mississippi Studios.
Hmmm… yes. I find that I am curious as long as they haven't removed the fried cheese curds from the menu (seriously—those things are like salty, squeaky puffballs of pure joy), which they haven't.
So, let's say it's Saturday night and you and your sweetie of choice have already indulged in happy hour cocktails (daily, 5-7pm & 10pm to close) or one of the daily drink specials (check out Savoy's Facebook page to find out what they're pouring tonight!) and now it's time to eat—what exactly should you order to impress your date?
According to Stern himself, two of his best dishes are as follows:
Starter: Fried Squid ($10)
Stern: My #1 pet peeve with squid is to see it cut in rings because it makes it tough. I cut mine (which is shipped to us fresh and whole) into strips and batter it in a rice flour and cornstarch mixture, which results in a super crackly, crispy, thin, light coating. These strips get served with fried house-pickled peppers (currently pardons), local baby arugula, and a tangy chili aioli.
Entrée: Pork Cheeks ($15)
Stern: Almost everyone in town braises them, but I wanted to do something different because every time I see "braised" on the menu, I think of how long the meat has been sitting in the fridge. It takes hours to braise meat so you know the cooks are just heating up something that was done ahead of time and it will possibly taste like refrigerator… not my style. I try to cook EVERYTHING on the spot as much as possible, so my pork cheeks are seared and oven-roasted to order. After they are cooked, I pour out the fat in the pan and add molasses, vinegar, and a few other things, and reduce the sauce until it's like candy. Then I pour it over the cheeks and top them with grilled pluots—a variety my produce supplier calls "flavor grenades." Like most of the entrées on the menu, this dish comes with a choice of two sides—I recommend white cheddar grits and roasted brussel sprouts.
~
But if you really want a romantic moment on the cheap, you and the apple-of-your-eye should order the ever-changing Saturday Date Night special. Last week, for example, it included: 1) either my beloved cheese curds or a salad; 2) A "Tower of Goodness" (from bottom to top: a seared cheddar grit cake, buttermilk-soaked and spicy panko-breaded Draper Valley chicken tenderloins, frisée and parsley leaves tossed in lemon vinaigrette, a poached egg, and a drizzle of smoky tomato shallot sauce); and C) Your choice of dessert, made by the much-admired Alton Garcia. All for $18.
Sure, Savoy may not be at the tippy-top of the culinary heap in this town, but it's hard to beat this kind of creativity, quality, and quantity for the money. If your date doesn't end up working out, at least it won't have cost you an arm and leg, and you'll know it wasn't because of the food—it was likely just you.