'Burbs Bites
Restaurant Update: MiNGO West
Simple, solid, and delicious Italian cuisine in Beaverton.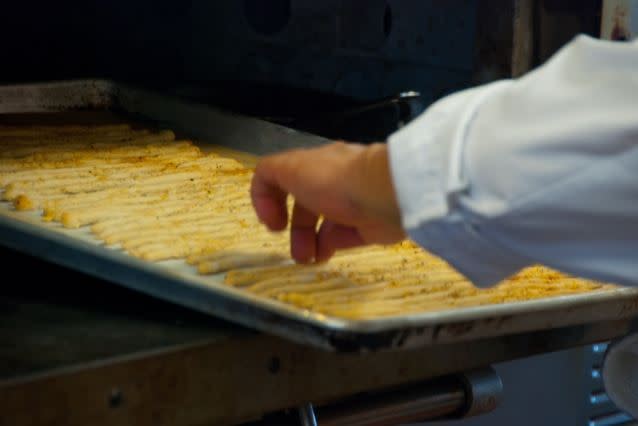 In our food-obsessed hamlet, it's rare that I hear mention of any place to eat outside of the four quadrants. For example, I've lived in Portland for a few years now, and it was only recently that I learned there was a third manifestation of Northwest Portland's deliciously reliable Caffe MiNGO and Bar MiNGO — MiNGO West —located in Beaverton. It's just a hop, skip, and a MAX ride away from downtown (literally—there's a stop right in front of the building, at the Round), but no one I know knew it existed.
Last weekend I had dinner plans with a friend who lives in Cornelius, so I figured it was time to make my maiden voyage to this middle-ground culinary destination.
Warm and cheery, with wooden floors and quirky art, MiNGO West is the kind of place that invites regulars—in fact, as I enjoyed a glass of Evesham Wood pinot noir while we waited for a table, I watched as the co-owner, Michael Tocchini, greeted numerous patrons by name and the occasional hug. (Tocchini also sent us some perfectly seared scallops on a buttery/peppery crostini; a thoughtful gesture when you consider that it was our own fault for failing to make a reservation on a bustling Saturday night.)
In case you're wondering, as I was, about how all those MiNGOs are connected, Tocchini owns West with Michael Cronan who also owns Caffe and Bar with Joe Cleary. Tocchini's father grew up with Cronan and the Cleary family in San Francisco back in the day, and Cronan is Tocchini's godfather. The younger Italian worked for Cronan at Caffe and Serratto, before joining in the creation of West, which opened in 2004, where he serves as managing owner, collaborates with chef Martín Gomez to produce a new menu every six weeks, runs the extensive wine program, and coordinates the immensely popular winemaker dinners. (Next up is Pamela Lenzi of Fattoria di Petroio in Tuscany, on November 18th.)
When they were deciding where to locate their new MiNGO outpost, Tocchini and Cronan considered Portland's eastside, but finally settled on the 'burbs because they felt there was more of a foodie hole to fill farther out. "There was nothing like us out here when we arrived, save Hall Street Grill and some good hole-in-the-wall Asian places," says Tocchini.
For my dinner last weekend, I had the ultimate rainy autumn night soul food—a grano intero pizza, which had a whole wheat crust and was topped with roasted butternut squash, smoked mozzarella, radicchio, and sage. One of my dining companions devoured the melt-in-your-mouth halibut, resting atop a wealth of chanterelles and sweet potatoes, and the other enjoyed the super tender Polpo (octopus), served on top a bed of arugula. The menu has just changed, but I'd like to return for one of their homemade pasta dishes (such as the penne tossed with beef braised in chianti and espresso, or the pappardelle with rabbit sausage and butternut squash in a madeira cream sauce) or the newly added potato gnocchi, with a simple brown butter and sage preparation—you can add truffles as well, which you should.
MiNGO West isn't reinventing the wheel—instead, what they've brought to the suburban table is a simple, even wholesome Italian menu that showcases local produce and favors dishes featuring only a few lovingly-handled ingredients. In a culinary environment in which food is often twisted and tweaked to look like anything but what it actually is, there is something to be said for a meal that's just plain good. It's definitely worth a 15 minute car ride or a MAX ticket.