Sweet Gifts
Bizarre Bonbons from Seven Top West Coast Chefs
The holidays are like this box of designer chocolates—colorful, confusing, memorable, and alternately unpleasant or fabulous.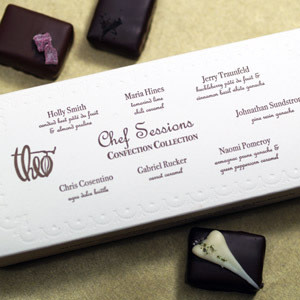 Based out of Seattle, Theo Chocolate is the first and apparently only organic and Fair Trade chocolate factory in the U.S. You have likely seen their delectable, albeit pricey, confections calling your name next to the checkout counter at Whole Foods and Zupans—mmmmm… Grey Salted Vanilla Caramels …mmmm…
Now, as the holidays make their merry way toward us, Theo has a new offering that would make it easy for you to cross the foodiest folks off your list: the seven-piece Chef Sessions collection. A septet of West Coast chefs each spent a day working with Theo chocolatiers to beget a treat that reflected each chef's "personality."
If this is the case, after sampling the Sessions I'd have to say that most of these chefs apparently have funky, thought-provoking, and overly-salty personalities that aren't remarkably yummy. Come on now people—food can be innovative and taste ridiculously good.
Nevertheless, these sugary sculptures are a real flavor adventure, and, as such, are pure entertainment. Here are the tasting notes on my two top yays and two bottom nays:
Yay #1: Tamarind Lime Chili Caramel — Maria Hines (Tilth, Seattle)
A chewy caramel that pairs the zippy tang of lime and tamarind with the divine combo of burnt-sugar and butter—with just a touch of heat at the end.
Yay #2: Armagnac Prune Ganache & Green Peppercorn Caramel — Naomi Pomeroy (Beast, Portland)
A sumptuously soft caramel with a spicy pop of pepper is the perfect foil for the rich, Port wine sweetness of the prune ganache.
Nay #1: Huckleberry Pâte du Fruit & Cinnamon Basil White Ganache — Jerry Traunfeld (Poppy, Seattle)
An intense, long-lasting basil flavor that coats your mouth, paired with a bright, jammy fruit. It isn't exactly pleasant but it's fascinating, and it has a fabulous creamy texture.
Nay #2: Carrot Caramel — Gabriel Rucker (Le Pigeon, Portland)
Why ruin a perfectly good caramel with the cloying, mineral flavor of carrot juice? Then again, I intensely dislike carrot juice…
The gift box costs $37; however, because $15 is donated to Western Washington's Food Lifeline, it's more like you are paying $22 for the quirky candies and $15 towards securing your place in heaven.