Interview
5 questions for: JON HART, an eater.shopper extraordinaire
The frequent eat.shop portland contributor gets candid about the culinary scene in the City of Roses and the City of Lights, and why he's the guy to gab about it.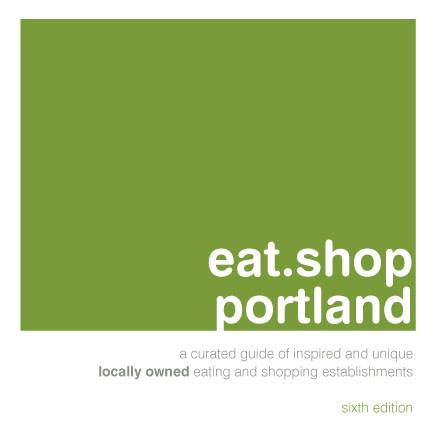 In the encyclopedia under "Wears a lot of hats": Jon Hart. He writes for magazines like Casa da Abitare, a super cool Italian design rag. He co-owns a hip bag line called Chester Wallace, which is sold in a dozen or so stores around the U.S. and Japan. He's in the midst of building a house which he helped design, and is now involved in the construction. He works at Evoe two days a week simply because he loves cooking. And he is a contributor to the très stylish eat.shop portland guide, as well as author of the paris version.
In honor of the hot-off-the press sixth edition of our city's little green compendium of carefully-curated unique and "scrumdilicious" local businesses, we asked our Jon-of-all-trades to talk details about the edible half of his guide gig.
1) In your humble opinion, why are you uniquely qualified to dish about what's worth eating in Portland?
It's what I've always done. When I travel, I am always in pursuit of something delicious, and in that pursuit, I'll eat anything. This often means I'm trying a lot of things that aren't really great, but when I do find something amazing, I feel like I've won. I've now lived in Portland for about 18 years, and during that time I've worked in or been closely associated with the restaurant world. I've watched the city grow from a great farmer's market and a few very good fine dining places, to what we have today. So, I'm a Portland booster.
2) Let's say a person found out they were going to die in three days; what are the three local places where they MUST eat and what should they order?
I'd probably want to cook for them if they were on their death bed. But let's assume they have some energy and aren't dying of anything terrible—I'd take them to Grüner for the hamburger, and then go to Murata and have Mr. Murata keep feeding us miso grilled oysters, mackerel nigiri, and tiny, fried fresh water crabs until we were ready for dessert. We would end the night at Nostrana with the yogurt panna cotta and the butterscotch budino. And then we would go home and both want to die from over-indulgence.
3) In eat.shop portland you name eight carts that you love; what two carts would you add to make the list a perfect 10?
The first two that popped into my head are Tabor and FlavourSpot. By name alone, Tabor's schnitzelwich would make anybody's mouth smile and water. And Flavourspot almost seems to have invented a new food group with sandwiches made out of waffles.
4) You also write for eat.shop paris—in so doing have you noticed any culinary similarities between the two p-towns?
I've been traveling to Paris a lot over the past 15 years, and I'd say yes, and much more so recently. In the past, Paris restaurants have been focused on technique, which means sauces, richness, and stuff based on tradition. But in recent years, with places like Le Baratin, Racines, and Les Papilles, things have gotten much more casual and ingredient-focused and are often served in a wine bar atmosphere. This seems like Portland to me, in the sense that more interesting cooking is taking place in casual places. At Le Baratin I had the most delicious fried whole colinot fish with sauce gribiche (tartar sauce) for less than $20. It was light, simple, and delicious—a refreshing break from things baked under puff pastry and sitting in a pool of wine sauce or cream. It reminded me of something that might be served at Evoe or Navarre. In fact, we soon were serving pan-fried razor clams with sauce gribiche at Evoe.
5) What's the last local place where you went out to eat, and what did you think of it?
It's the dark rainy season so I want some comfort when I go out. I went to Dove Vivi this week and had the kale salad and a slice of Finocchiona pizza. That kale salad has inspired a lot of salads at my house. Raw kale chopped fine and tossed in lemon and olive oil and topped with a little riccota salata. It's deceiving because it looks like a pile of tough, leathery greens that are going to be a drag to eat; but the lemon makes the leaves tender and delicious. I could eat it all winter long.