Behind Bars
Trader Vic's in the Pearl?
Tiki titan's return in the works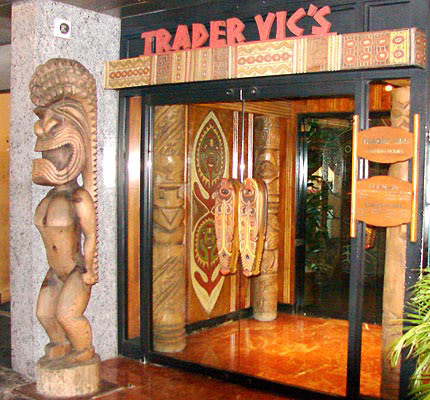 Jeff Manning at the Oregonian is reporting that a local group of investors headed by J. Clayton Herring, president of real estate firm Norris Beggs & Simpson, is doing some legwork to bring Trader Vic's back to Portland. As town elders will recall, the famed Polynesian restaurant and bar chain had a local outpost situated beneath the Benson Hotel in the space now occupied by El Gaucho, but it closed up shop in 1996.
According to Manning's article, the new locale would be in the 7,900 square-foot building that was home to Manzana restaurant at NW 12th and Glisan. I have calls in to some of the players involved and more details will follow as they materialize.
As anyone who knows me can attest, I love me some tiki bars. I dig the Fog Cutter and pupu platter at Thatch, and I've crooned Steely Dan at The Alibi on a number of occasions, despite their tendency to serve weak cocktails. While I generally don't patronize national chains (boo!) I have to admit I have a soft spot in my head for Trader Vic's. I was spirited there by some record company publicists upon being named Oregon Editor of The Rocket in 1995 and plied with exotic rum drinks. I remember marveling at the prices and thinking, Holy cow! Some of these cocktails cost $7!
What do you think drinking buddies? Is there room in our hearts for Trader Vic's? Should it be in the Pearl? Are Portland's homegrown tiki bars good enough to serve all of our tropical needs? Discuss.