Happy Hour
Happy Hour of the Week: Gilt Club
The HH menu at this relaxed-glam Old Town cocktail den needs a little shaking, or maybe just a stir.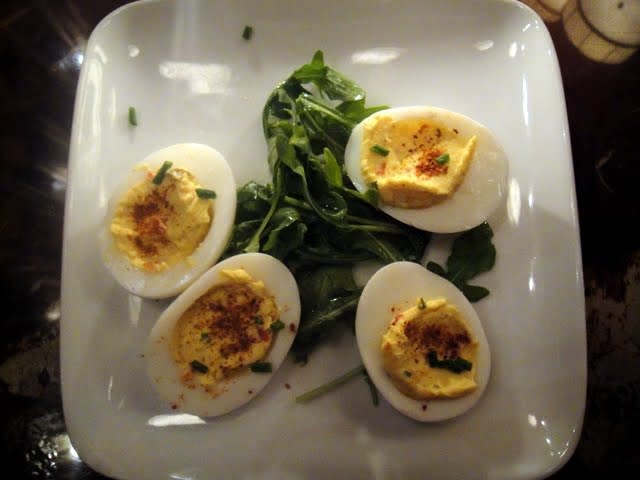 Basing my judgment of the book solely upon its cover, I was a fan of the Gilt Club (306 NW Broadway) from the first time I entered its Grenache-and-gold-hued throwback-swank innards. I liked that there was lots of high-backed, crimson-cushioned seating, I liked the crowd (no body shots, here!), and I liked the eclectic music, played at a respectable level that didn't require shrieking at one's companions. In fact, it had me at plentiful parking.
That said, it's been quite a while since I paid this Old Town lounge a visit—not since chef Chris Carriker came on board. In recent months, the Gilt Club has guest starred on Meat & Potatoes and Portlandia, and Carriker will be cooking at the James Beard House in March. I'd also heard word that the Happy Hour (M-F, 5-6:30pm) has proven popular with the Pearl District crowd, so I decided it was time to quell my GC dry spell.
My verdict: A+ for the space, style, service, and prices (everything is $5 or less, including 12 items on the regular menu); B- for execution.
For starters, the online HH menu that had gotten me all hot-and-bothered didn't match the actual menu. This is no big deal in-and-of itself, but the actual menu simply wasn't as good—less options and no house-made "Cracker Jacks"—foie popcorn and glazed peanuts drizzled with caramel. The gist of the actual menu appeared to be gourmet takes on HH classics ($4 turkey wings, $3 breaded and fried pig tails, $2 warmed hazelnuts), which, again, isn't a bad thing at all; however, with a few exceptions, the finger fare itself was ho-hum.
The popcorn shrimp ($4) with warm butter, for example, had a great presentation piled on actual popcorn, but it was overly-breaded and the popcorn seemed stale. The radicchio salad ($3) was doused in a tasty, rich, garlicky dressing, but it came with a cured meat that wasn't on the menu and the croutons were reminiscent of Marie Callender's. And the burger ($5)—the hockey-puck quarter-pound patty was dwarfed by a giant bun, and the bland meat was further lost among the intense flavors of blue cheese and Dijon.
On the positive side, the French fries ($3) are pretty much perfect, and this is no faint praise, as I am not typically a fry fan. Thin, crispy, and salty, you can actually taste the potato itself—I never even considered sullying them with aioli or ketchup, and I couldn't stop shoving them in my mouth. Another highlight was the angry deviled eggs ($2). The yolks are mixed with crème fraiche and chilis, which yields a fabulously creamy, subtly tangy, gently spicy bite of delight. The HH wine, a Côtes du Rhône ($5; they give you whatever they happen to have a lot of), was also lovely, and the extensive regular cocktail menu, broken up into signature, vintage, savory/herbal, winter, and sweeter options, reads like booze porn.
The place was packed with dinner diners by the time we were done, so I wonder if, perhaps, the HH menu simply hasn't been a priority, or maybe I just ventured in on an unsteady day. I hope so. I'd really like the Gilt Club to be the kind of book I want to read, not simply look at the pictures.