Happy Hour
Happy Hour of the Week: 23Hoyt
New-ish chef Amber Webster is contributing winners to the truly cheap happy hour at Northwest Portland's trendy dinner den.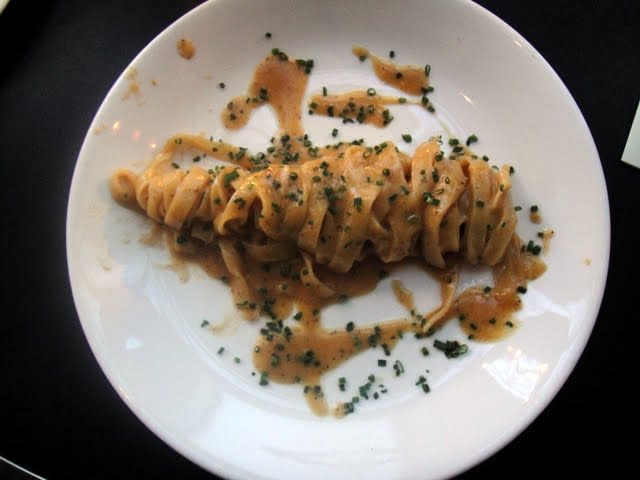 One, two, three, four, come on, baby, say you love me, five six seven (eight, nine, and ten) times.
That's how the extensive and user-friendly daily Happy Hour Snacks menu at 23Hoyt (located at 529 NW 23rd) is broken up. It ranges from simple $1 nibbles like fresh potato chips and tangy, subtly-seasoned house pickles, to the towering $10 version of their burger—the ground round deluxe with applewood smoked bacon, emmentaler cheese, an organic fried egg, avocado, lettuce, onion, tomato, pickles, and a secret sauce, served on a soft ciabatta bun. (They also provide respectively less decadent $9 and $8 versions.) Gourmet flatbreads come in $7, $8, and $9 versions, and the rest of the fare is filled out with light bites like battered fried greens beans & spicy aïoli ($3) and actual meals, such as duck confit agnolotti (a stuffed pasta; $7) with celery root cream and tart cherries.
Lavish happy hour offerings at 23Hoyt are nothing new; however, the chef is. A transplant from Orange County, California, Amber Webster joined restaurateur Bruce Carey's chichi, antler and candle-bedecked gastro-pub in late 2010. Instead of white-washing the entire menu and painting a new scene, she's slowly adding dabs of color here and there. For example, the happy hour small plates now include a fantastic house-made fettucine in a smoked butternut squash cream ($5)—the pasta has the perfect bite and chew and the sauce is nuanced, rich, and savory, completely side-stepping the cloying sweetness that typically accompanies dishes made with butternut squash.
Other fare on the happy hour menu is satisfying and certainly affordable, but doesn't always rise to exceptional. I appreciate that the cup of roasted beets ($3), served with a heaping scoop of mild, creamy goat cheese, aren't overly marinated as they so often are in this city, and the straightforward B.L.T. slider ($4) manages to get a bit of pleasing crispness on the thick-cut bacon; but the deviled eggs ($2) are lackluster at best. I'd like to see what else Webster would do if she simply went with her bad self. She got the job with the recommendation of her mentor and former boss, chef Jason Neroni, who, it so happens, just (amicably) left Saucebox after three short months. Hopefully she'll stick around a little longer.
Happy Hours: Sun-Thurs, 4-7pm; Fri & Sat, 4-6:30pm
Drinks: $3 beer, $5 house red and white, and $6 specialty cocktails.
Vibe: Mostly the NW Portland crowd, who would never wear nubby fleece. But the happy hour prices (and insanely tasty desserts, like fresh donut holes with salted caramel sauce for $6) would make even a dyed-in-the-wool NE'er like me be willing to search for parking every once in a while.