Happy Hour
Happy Hour of the Week: Temple Bar
Knob Hill's Indish is reborn is a whiskey & classic cocktail lounge, with a budget-friendly (and worthy) Happy Hour menu to boot.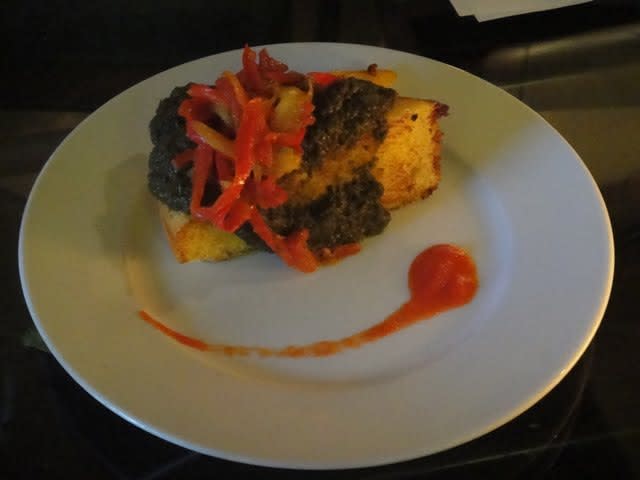 Have you ever had a real martini? I'm talking the pre-prohibition recipe that combines gin and vermouth, and is stirred (never shaken!) with a dash of bitters and a twist of lime. It's a silky-smooth, slightly viscous concoction (shaking forms tiny ice crystals rather than the liquid velvet of stirring) where the botanical flavors of the gin and the herbaceous vermouth serve to make each other sing, almost like a refreshing alcoholic tea, and that harsh kick you get from the improperly prepared vodka version is nothing but an unpleasant memory. As my martini-loathing husband put it, "I could easily down six of these!"
We recently sampled this American icon—and received an awesome impromptu education about its history, bitters' eventual fall from grace, and how what we now call a vodka "martini" was once referred to as a Kangeroo and only gained popularity during WWII—from Raj Sharma, owner of The Temple Bar (305 NW 21st Ave). Open for business about two weeks ago, this "new" watering hole is actually a speedy refashioning of Nob Hill's urban-chic-take-on-the-traditional-Indian-restaurant, Indish.
"We really just tossed some things in different places and changed the focus," Sharma told us, after explaining that his love (an understatement) for single malts and the beverages of yore inspired the transition.
The result is an airy, sexy whisky bar and classic cocktail lounge (think Indish's low, cushy couches placed in intimate arrangements) with a more booze and pig-friendly menu and a heftier Happy Hour, available Tues-Sun, from 4-6pm. That HH menu includes at least seven cocktails ($5-$6), ranging from truly traditional renderings to inspired flights of fancy, such as a spicy-hot Whiskey Sin (whisky, cinnamon, fresh lime, and what I assume is chili) or the Chai Cocktail built with house-made chai. They also offer a selected single malt scotch of the day for $7.50, house wines ($5) and a range of beers ($3-$4.50).
I wondered how the Indian-inflected small plates menu would work with all of this, and the answer is surprisingly well—maybe it's because the tasty nature of the food itself can stand alone, or maybe it's just that it's unique in a city where Northwest twists on Southern comfort food are taking over menus like the Nothing from The NeverEnding Story.
Prices range from $2 for a bowl of flavorful (if perhaps a bit unpleasantly wet with lime) spiced peanuts, to a $7 pulled pork sandwich topped with a tamarind barbeque sauce. A hearty lamb wrap ($6) on a light, chewy flatbread with mint chutney is a great twist on fill-you-up pub fare, as is the sweet-salt combo of the chickpea-battered bacon bites.
But the numerous vegetarian options are the real standouts here. A hot, flaky, melt-in-your-mouth biscuit ($5) filled with thick hunks of caramelized paneer and surrounded by a creamy, spicy tomato sauce and herb chutney inspires hogging more than your fair share. The same can be said for two cornbread dishes (both $4). The base itself is light, earthy, egg-y, and carefully crisped on the outside. One dish is topped with salty, buttery, creamy mustard greens, balanced with the sweet tang of sautéed peppers. The other is atop a rich lentil stew flecked with red beans and alive with ginger and umami flavor. Delicious.
It's a Happy Hour menu that easily inspires a return visit. Although the chance to chat with Sharma is reason enough.