Interview
5 questions for: hot, young talent ALEX YODER
Olympic Provisions' executive chef chats about cookbooks, trends, and choice places to eat.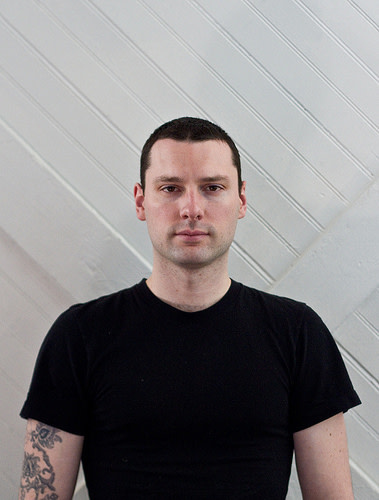 Alex Yoder was literally born to cook in Portland. Raised in a Northeast neighborhood by a family of cooks, he found his calling while working at Ashland's venerable Chateaulin during college, but then returned to his hometown where he worked his way up from line cook to Café Castagna sous chef under then-executive chef Kevin Gibson, followed by a similar path at Clyde Common. In December, he followed in the footsteps of his former CC boss, Jason Barwikowski, taking the helm at Olympic Provisions.
Plopping down in a place that's already notable—and replacing a chef with a known and respected reputation—may seem a little daunting. But so far this top spot transition has been pretty seamless, an all the more impressive feat because it comes at a time when the Eastside eatery is opening a new outpost (Olympic Provisions Northwest, scheduled for early-to-mid-April), launching an online store, and expanding their fresh and cured flesh line to include the likes of bacon, kielbasas, coppa, pancetta, and more.
Here, Yoder gives us a little insight into his own culinary style and makes us hungry.
1) We're gonna start with a two-parter: A. In what ways are you making your mark on the Olympic Provisions menu? And, B. Can you give us an example of a perfect OP meal from start to finish?
The food I'm cooking is all about focus and big flavors, with just one or two highly flavorful components to each dish. An example would be our whole-roasted sardines with a mixed olive tapenade.
As for the perfect Olympic Provisions meal, it must start with a charcuterie plate. After that I would enjoy a toasted farro salad with mint and feta cheese, followed by squid sautéed with chorizo and corona beans—the squid is fresh and stays very tender… it's really nice right now. As for what to drink with your meal, when I'm sampling a lot of different flavors, I don't worry too much about pairing. My advice is to drink what you like. And for me, right now, that would be Barbera D'Alba.
2) Beginning in April, you're going to start doing a special monthly menu that focuses on a particular region—can you give us a few highlights from the premiere performance?
The first region I'm going to feature in the series is Murcia in Southeastern Spain. This region is recognized throughout Europe for its pristine fruits, vegetables, and seafood. I am definitely going to make a cold shrimp and mussel salad with capers and Spanish olive oil. But the real highlight will be a dish called Arroz con Costra, which translates to "Rice with a Crust." It's a too-good-to-be-true sounding combination of rice, blood sausage, white sausage, and chicken, baked underneath a golden dome of fluffy whipped eggs.
3) We went ahead and labeled you a hot, young talent, thus we'd love to know what's driving your culinary thinking right now?
The big thing exciting me right now is preserving. Oregon has amazing bounty for much of the year but it can get pretty lean in the winter. (By April I don't even want to look at a sunchoke!) So, the challenge is to translate that bounty into great cooking and eating year-round. This goes beyond making pickles and jam. For examples, it means preserving peppers and tomatoes to use as ingredients all year as well. Preserving will be a major part of what the Olympic Provisions kitchen will be up to this spring and summer.
4) We hear you're a fan of cookbooks—which ones are your current favorites?
I will always love the Zuni Café Cookbook by Judy Rogers because of her obsessive attention to detail. She trains her young cooks to taste stock every hour so as to track how its flavor evolves. Genius. I also adore Vegetarian Cooking For Everyone by Deborah Madison. Her vegetarian dishes honor tradition and never lack flavor, and she tells you how to cook a cardoon! Right now I am re-reading John Thorne's Pot On The Fire—it's not a cookbook, but it does include excellent recipes. Thorne is the most thoughtful food writer of all time as far as I'm concerned.
5) So, you grew up here in Portland—where did you love eating as a youngster, and where do you dine now when you actually have the time?
I grew up going to Nicholas, Pambiche, and Escape from New York Pizza, and when the grandparents visited, they would take me to the Ringside. I still go to all those places. These days, though, my favorite things to eat for lunch are duck soup at Good Taste Noodle House, and anything Kevin is cooking at Evoe. My favorite things for dinner are the whole steamed bass at Ocean City Seafood Restaurant, and mussels and fries at Laurelhurst Market. I grew up in Laurelhurst so perhaps I'm biased, but I think they're cooking very well over there.