Cheap Eats
Hidden Gem: Downtown's Mizu Sushi
This wee four-seat sushi (and udon) counter is fresh, fast, and worth seeking out.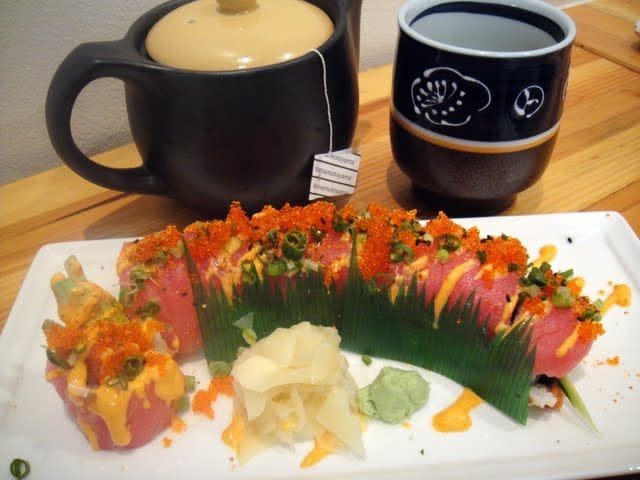 Mizu Sushi (1338 SW 3rd Ave) is the kind of micro-eatery you might drive by every day for two and a half years (how long they've been open) as you make your way to Market St on your commute home, and fail to notice every time because you're too busy fiddling with your earpiece.
In fact, I still might not know this teensy four-seater plus display case existed if it wasn't for a glowing recommendation I recently received from Dayna McErlean, proprietress of Yakuza and DOC. McErlean labeled the udon "amazing," and, indeed, Ruth (the woman who owns and runs the joint along with her mother) told me that this slurpy, steamy soup is one of their most popular menu items, especially during our dreary months (i.e. every month but August).
However, my first foray happened to take place on an unusually sunny day so I opted for the sushi instead, and found it to be solid. Solid as in not earth-shattering, but definitely return-worthy, with bonus points for an extensive menu, made-fresh-ness, and large portions for decent prices—think $2.85 for a simple 6-piece tuna or salmon maki roll, up to $8.25 for a prodigious 8-piece specialty roll and $8.95 for the 6-piece sashimi.
A highlight was the popular Tiger Roll ($7.65), a hearty combo of tuna, avocado, and cucumber, drizzled with a spicy sauce and generously speckled with masago. The tuna tasted fresh and wasn't overpowered by the sauce, and the plentiful masago was soft and lacked the fishiness you sometimes find in lesser quality roe. It may not represent the best roll you'll find in the Portland Metro area (for that I offer Maki Japanese Restaurant in Tigard), but it's likely the best you'll find downtown.
The seafood that topped the lovely Rainbow Roll ($8.25)—salmon, yellow tail, tuna, and ebi—had less flavor, but the dish was substantial and worth a second-try.
Vegetarian? This is a place where you can get something a smidge more interesting than avocado, cucumber, and carrots. The addition of cream cheese to this combo in the 8-piece Cream Cheese Vegetable roll ($5.95) makes for a rich, satisfying variation on a typical veggie sandwich, while the 8-piece Tofu Roll ($5.95) combines the earthy flavors of raw tofu and chilled cooked spinach with the snap of green onions.
Because I was feeling piggy, I also ordered the seaweed salad side ($2.95). It was generously dressed with a flavorful and well-balanced combo of sesame oil, vinegar, soy, and sugar, but there were a few limp, almost fishy dark green strands among the mostly bright green, springy mass, which made me think it had been sitting for a while. This may have had something to do with the fact that Mizu is a two woman show, which means you'll have to hold your horses if there's a line and occasionally items might be pre-made (hence some kvetching I saw on Yelp).
But I also might have just been bitter because they were out of veggie gyoza (potstickers).
Regardless, although the nature of Mizu's size and location in a building straight of the movie Metropolis means it caters to the eat-at-your-desk crowd, I'd say it's worth a mid-shopping or paying-a-parking-ticket lunch break for the rest of us as well. Check out the new Happy Hour menu, Mon-Fri, 4-7 pm.