Restaurant Opening
Pocket-Sized Pok Pok
With Pok Pok Noi, Andy Ricker's greatest Thai street food hits come to NE Prescott Street. Get in line.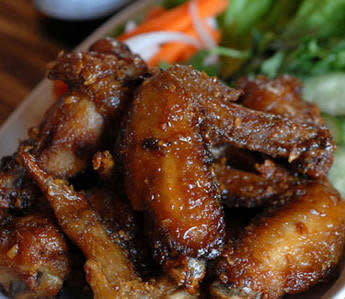 Holy fish wings! Pok Pok Noi is open for business! Noi (Thai for "little") is shaping up to be the bare-bones emporium of chef/owner Andy Ricker's Pok Pok Empire with a collection of must-eat signatures like Kai Yaang game hen, Vietnamese fish sauce wings, sweet and sticky ribs, and last but not least, barbecued boar collar…all available for take-out. Also on tap: top cocktails from Ricker's Whiskey Soda Lounge, including the vaunted salted plum vodka Collins.
In his usual to-the-point fashion, Ricker lays out the ground rules to prevent a Northeast Portland bum-rush for his killer spicy wings and precious drinking vinegars:
1. Pok Pok Noi is strictly a counter service and take-away restaurant
2. Hours of operation will be 11:30 a.m.–10 p.m., 7 days a week
3. We have limited indoor seating (11 stools!) and plenty of outdoor seating on our back patio; first come, first served basis
4. We are going to run you the food and bus your tables
5. We are only able to accept cash or debit cards as payment; no credit cards of any brand
Follow the rules, and Pok Pok heaven is yours.
Pok Pok Noi
1469 NE Prescott St (former Podnah's Pit space)
503-287-7620
pokpoknoi.com