Product Placement
Uncork the Pork
Bakon Vodka beckons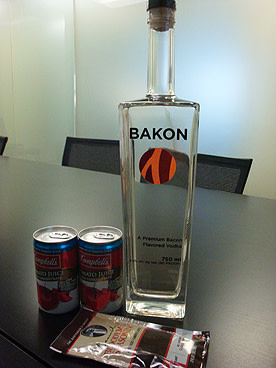 I love getting packages in the mail here at PM central, because most of the time it's booze. Today's box of joy comes from Bakon Vodka in Seattle, Washington. As you can see by the photo, it is indeed a "premium" bacon-flavored vodka that could theoretically add some much-needed porky goodness to my liquor cabinet.
The friendly folks at Bakon included some tomato juice and Bloody Mary seasoning, hoping that yours truly would take it for a test drive (not literally—I do not drink and drive. In fact, I don't drive at all). They also sent along some recipes. What do you think?
The Bakon Mary
• 2 oz Bakon Vodka
• 1 dash celery salt, black pepper, lemon (or lime) juice and Tabasco
• 2-4 dashes of Worcestershire sauce
• one-eighth teaspoon of horseradish
Fill highball glass with tomato juice (or Clamato for a Caesar) and add seasoning. Garnish with pickled veggies and/or celery.
Chocolate Bakon Martini
• 1 part Bakon Vodka
• 1 part chocolate liqueur
• A splash of cream
Combine in a cocktail shaker and shake with ice. Strain and pour into a martini glass.
Actually, they suggest a "sugar-rimmed" martini glass, but it'll be a cold day in Muspelheim before I deign soil my palate with such frippery.
But surely there must be more uses for Bakon Vodka that we're overlooking. Enlighten me, drinking buddies! Write down a bitchin' bacon cocktail recipe in the comments section. I'll send the best one back to Bakon Vodka and see if they'll name it after me (us). Get cracking!