Eat This Now
Wake up Call: Brunch at Irving Street Kitchen
Just when you thought Portland couldn't exceed the bacon-donut-biscuit speed limit, here comes Irving Street Kitchen flashing a green light to keep the Southern-influenced indulgence going.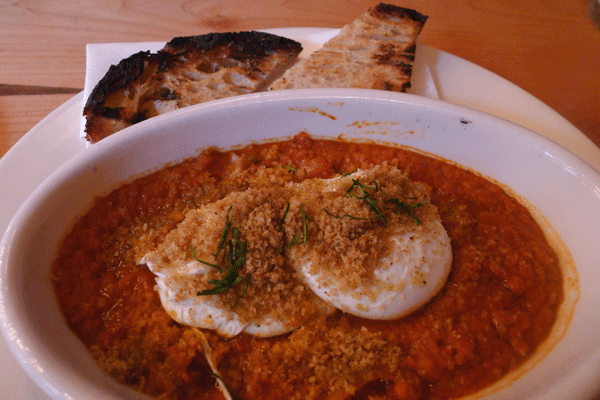 Brunch is not new at this Pearl District puzzle—the list has been evolving since August. But in a restaurant whose eclectic approach has been surprisingly uneven, despite respected San Francisco talents behind the scenes, the kitchen has shifted into a welcome gear on Saturdays and Sundays. Irving Street Kitchen is turning out one of the best brunches in the city, led by attention to details, a high level of craft, and some memorable flavors, with a couple dozen options mostly around $8–12.
Donuts arrive two to an order, sugar-dusted, blessedly warm, with just the right whisper of fry-crust and an impressive light interior—more brioche-like than a typical cake donut. The waitress suggested a side of bacon, and mercy, she was right. The smoky, salty, thick-cut strips, with their blackened edges, molasses undertone, and snort of intense tasso-ham spices, danced beautifully against the donuts. They also revealed the spicy-loving heart of co-owner Mitch Rosenthal, who spent formative years with Cajun guru Paul Prudhomme in New Orleans.
I wasn't crazy about the Croque Madame, with its too-salty meat and lost-cheese flavor, not to mention ordinary fries. But I'll be back for the kitchen's eggs: little moments of perfection hard to find and achieved only with attention to timing and technique. Scrambled eggs arrive the French way, slow-stirred into beautiful clumps and folds, mingled here with chucks of lobster (or seasonal seafood) and spooned over homemade brioche toast delivery everything you want: big butter flavor and a landscape of crisp.
The Moroccan poached eggs could emerge as a house signature, served over a concentrated, cumin-jumping tomato stew boasting the kind of flavors that only come from long cooking. Even the breadcrumbs get special attention, slow toasted with a complex blend of North African spices and piled in hillocks on top.
The updated farmhouse approach comes with a strong bar and some cozy corners, including compact booths bound in recycled wood, like little dining sheds. Right now, the only thing missing here is a line out the door. In Portland, that's a stroke of good fortune.