Restaurant Opening
Wining and Dining
Celebrated Thistle chef Eric Bechard opens Community Plate in McMinnville.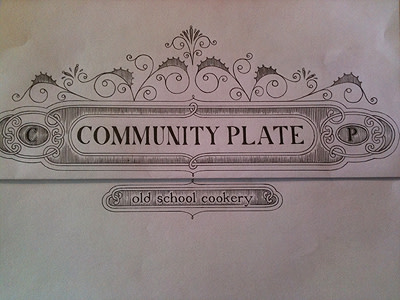 For those living in the capital of wine country, finding a good place to eat without paying out-of-town prices is a formidable challenge. Where can you get a decent meal of locally sourced grub without fighting swaths of well-heeled Europeans or gaggles of tipsy Californians migrating north? Nick's Italian Cafe launched a smart casual wood-oven pizza plan. Now comes Thistle's young gun Eric Bechard, with another answer: Community Plate, opening this Sunday, March 27 at 3 pm. The plan, unveiled in January, reveals a casual spot for farm-fresh food, worthy of the region's terroir, at wallet-friendly prices. The relaxed tone, the recycled decor, and Thistle's reputation for helping to shape a blossoming wine-centric dining scene should draw plenty of curious food lovers.
We got the down-low on Community Plate following our interview with Bechard back in January. In addition to serving up feel-good plates like meatloaf and wild-mushroom gravy from local farmers, Community Plate also will be hosting free monthly classes, connecting the neighborhood community with the philosophies of food and food culture worldwide. These lectures for locavores will range from "meet the farmers" events, to butchery, canning, and baking classes from Bechard and co.
As befits an eatery by the people and for the people, Sunday's opening festivities will include live music from local band, My Life in Black and White, beer by McMinnville's own Heater Allen, and killer classic Americana snacks from Community Plate.
Community Plate (315 NE Third Street, McMinnville) opens this Sunday, March 27 at 3 pm.