Market Watch
An Easter Basket to Envy
Not your ordinary bunny delivery, this basket is filled with single origin chocolates and fancy caramels from one of Portland's premier chocolate counters.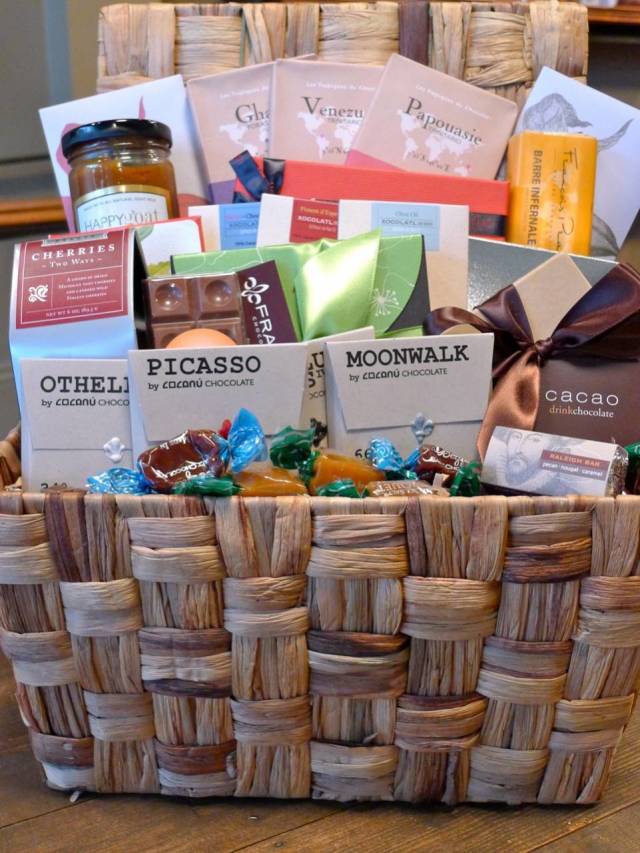 Easter is one of my favorite holidays—it still feels old-fashioned to me, bringing to mind pastels, parades, parasols, pretty dresses, supper with family and friends, and…baskets of candy, of course. Whether you eat ham or not, surely, you can't turn down a malted milk egg.
Last week, I stopped by Cacao, one of Portland's premier chocolate shops, to check out their spring picks. Co-owners Jesse Manis and Aubrey Lindley source some of the finest chocolates known to humankind. Their carefully sourced single origin gems vary in price from $3 to $15. The selection can be daunting, but everyone that works here is well-informed.
Dark solid bricks, pale creamy pastilles, and cocoa-dusted almonds line the shelves of this beautiful shop. You won't find giant chocolate bunnies, but how about some French sea salt caramels or a jar of hazelnut chocolate sauce? Tied up with colorful ribbons or hand-wrapped in Italian papers, Cacao's couture candies are as attractive as they are delicious. Their Xocolatl de David chocolates are made by talented Portlander and former chef David Briggs, who likes to incorporate the savory side of the pantry—olive oil and bacon—into his bars. I also discovered another new local brand called Cocanu. If you're curious about any of the bars, such as the Belgian Dolfin chocolate with pink peppercorns, just ask for a sample at the counter. As we filled up my basket made from water hyacinth reed ($12), I sipped a hot drinking chocolate and dreamed of Easters past with clover, bonnets, and bunnies and fantasized about Easters present made better with all the incredible chocolates from Cacao.
Some of our picks:
Francis Pralus, Hediard Pate de Fruits
Happy Goat Caramel Sauce
Xocolatl de David Olive Oil Chocolate
Xocolatl de David Raleigh Bar
Fran's of Seattle Caramels
Cocanu, Bequet Caramels Montana
Rogue Chocolatier Bars