The Pantry
Gourmet Jams from Pink Slip
Spring fruits and flavors have finally started to show up in Portland. One of our favorite new tastes are the marvelous concoctions from Pink Slip Jam, a local business whose grown-up jams will make any bread or cake shine.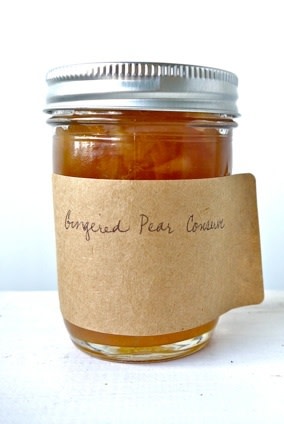 There's no mouth-puckeringly sweet strawberry spread from Pink Slip Jam. Instead, the flavors are complex and intriguing. Past jams have included B&B Marmalade (blood orange, Meyer lemon, Tahitian vanilla, bourbon, and sugar) and Gingered Pear Conserve (whose long list of ingredients includes pears, golden raisins, candied ginger, cinnamon, allspice, and cloves). This spring, there will be flavors like Rose City (strawberry, rhubarb, and rose petals) and Rhubarb and Mustard Seed Chutney.
A one-woman company, Pink Slip Jam was started by Suzanne Fuoco two years ago. With lots of food cred to her name—she worked in renowned Bay Area restaurants like Alice Waters' Café Fanny, Greens Restaurant, and Rivoli growing up helping her grandmother make preserves on her farm, she had the background and desire to throw in the towel on her nursing job and instead start her own business.
Organic and local as much as possible, many of the herbs and ingredients are grown by Fuoco and her family in SE Portland. Other fruits and produce comes from neighbors, and what she can't get from friends and family, Fuoco sources from Sauvie Island Farms and Sauvie Island Organics (such as peaches, figs, and plums). This year, California friends sent Fuoco boxes of Meyer lemons, so the fruit will shine in many of her upcoming creations.
Order online, through the Pink Slip Jam website, and if you live in Portland, Fuoco will hand-deliver your goodies (by car right now, on a bike in the future as soon as she can get her gears moving). Otherwise, you'll receive your jars by mail. Check out her website for ever-changing flavors as local produce (and the chef's whims) dictate newly delicious ideas.