OPENING NIGHT
Here Comes the Sun
Jenn Louis' long-awaited neighborhood bar, Sunshine Tavern, opened its doors on Southeast Division and we've got the inside (soft-serve) scoop.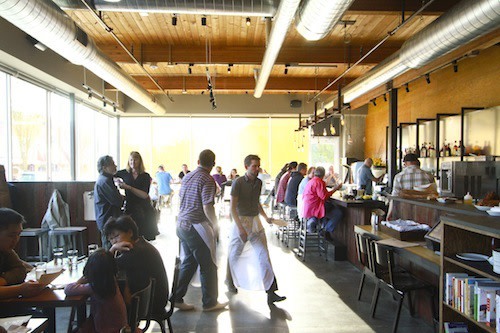 Jenn Louis and David Welch (the husband and wife team behind North Portland's Lincoln and Culinary Artistry catering) have just launched the neighborhood restaurant that will define Summer 2011 in Portland. I know that's a pretty big assertion, but think about it: locally-made soft-serve ice cream, shuffleboard, free old-school video games (yes, unlimited Ms. Pac Man and Donkey Kong), frozen margaritas, 8 beers on tap, and kid-friendly bar food that feels like a mash-up of Louis' gourmet northwestern cuisine and the deep-fried-everything booth at the state fair. Add the brilliant use of the Southeast Division space: tall windows, sliding walls, reclaimed wood from bowling alleys and barns, and an open kitchen that allows the staff to be a part of all the fun. And if you ask me, that's brighter than sunshine.
Sunshine Tavern – 3111 S.E. Division St – 5 to 10 pm weekdays, 5 to 11 pm weekends. Overwhelmingly kid friendly, all hours.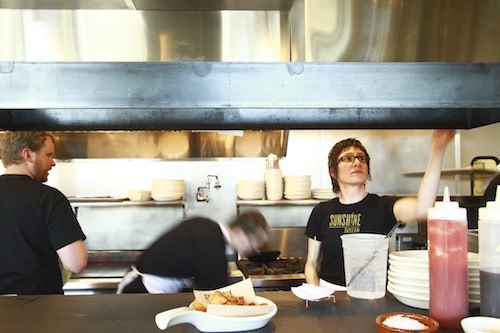 Chef Jenn Louis really knows how to command a kitchen. Simultaneously calling out orders, rolling pizza dough, crunching pork cracklings, and chatting up kids about their favorite Dr. Seuss books… Louis makes it all look easy.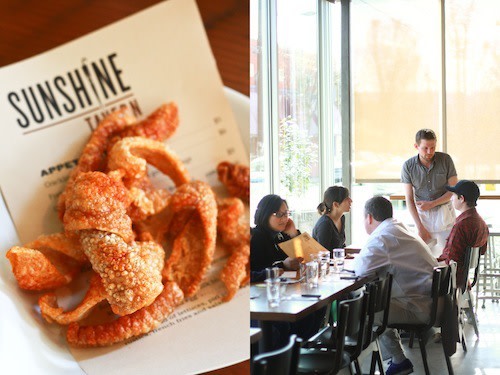 Pork cracklings with pimenton and sea salt ($5) were a popular first-night order, paying homage to classic bar snacks without all those pesky peanut shells to sweep up. These smoky, salty crunchies would pair perfectly with Sunshine's frozen margaritas, house-made orange soda, or a pint from the rotating tap of Welch's favorite brews.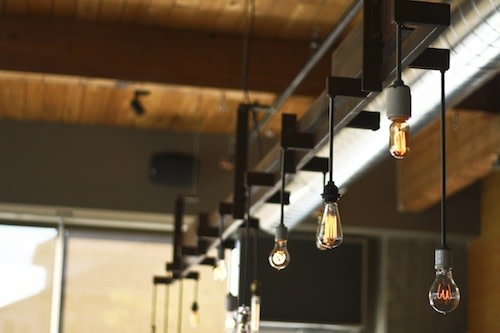 Throughout the restaurant, creative design details push Sunshine into true artisan territory. Here, Louis and Welch re-imagined traditional bar lighting in favor of a dozen different shapes of classic Edison bulbs in contrasting fittings.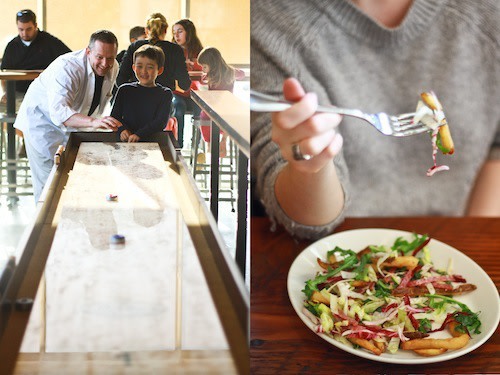 The chopped salad of lettuces, piri piri peppers, rustico cheese, french fries and salami ($8) manages to feel light and decadent at the same time. If you think about it, french fries aren't that different than the potatoes on a Niçoise salad. Besides, you can burn off those extra calories playing an intense shuffleboard match. It's all in the rationalization.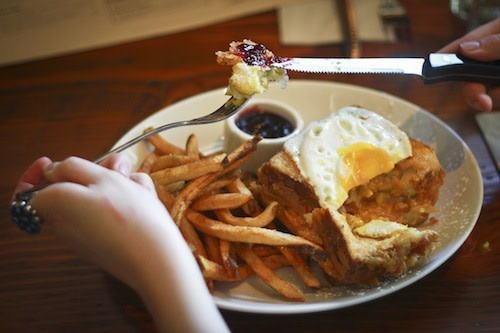 The Monte Cristo with fried egg, powdered sugar and marionberry preserves ($12) is basically a deep-fried double-decker ham and cheese sandwich with an egg on top. The key here is the preserves, an added sweetness that adds balance to the decadent dish. Hungry for more? You can swap the fries for pork-sausage gravy cheese fries, because, you know, why not.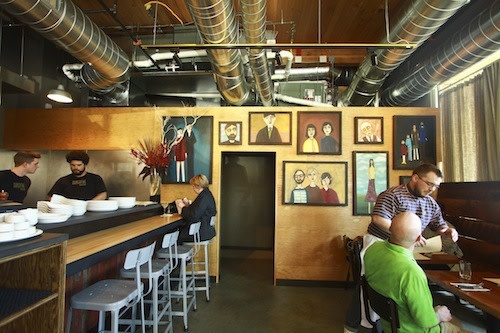 The colorful, friendly portraits on the rear wall of the restaurant were painted by former Decemberists drummer (and Louis' current drum teacher) Rachel Blumberg. The paintings are great, but the real shock here is that Louis has time to take drum classes while running two restaurants and a catering company. Has anyone checked to see if she has a twin?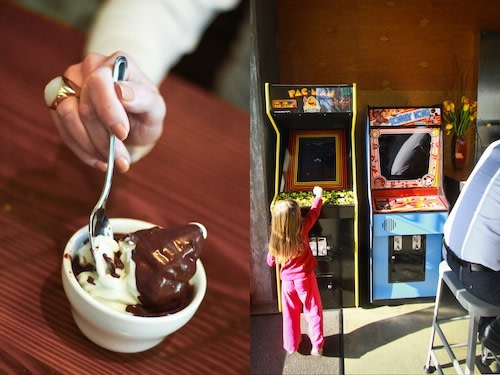 My favorite bite of the night was the soft-serve honey ice cream (from Fifty Licks) with home-made "magical shell" topping – made of 70 percent cacao, salt, and olive oil ($5.50). This will be the perfect dessert when it comes in a cone, so I can eat it one-handed while playing video games long after the sun goes down.