Food News
The Dough Runs Dry
Voodoo Doughnuts gets a spring overhaul; new doughnuts coming soon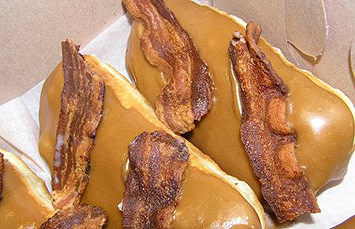 You may have noticed a lull in the 24-hour line that usually snakes around the beloved hole-in-the-wall and pop-culture phenomenon that is Voodoo Doughnuts. In its place, you'll find the occasional concerned-looking tourist and the usual Burnside vagrant peering in at its pepto-pink gutted interior. Yup, as of last weekend, Voodoo Doughnuts is closed for renovation.
Tres Shannon, co-owner and funk-tastic doughnut innovator at Voodoo, let us in on the details of their facelift. "We want to help Portland out," he says. "Instead of waiting two hours, maybe people will only have to wait 45 minutes." Shannon and his partner Kenneth Pogson (aka Cat Daddy) plan to rip out the floors and expand into the now-closed Berbati's Pan music venue, creating a much-needed lobby for the doughnut-hungry hordes that wrap around West Burnside.
The new digs will include "a lot of windows, brand new equipment, and four stools!" But, Tres reassures me, "It's still going to be all cluttered and crappy…the duct tape mural will still be in the bathroom, and the big doughnut will return to its place on the wall." Thank goodness for that.

The doughnuts themselves are also getting some new attention. Thursdays will henceforth be "Jelly Thursdays," ushering in a new partnership with the local preserve experts at Kelly's Jelly. According to Shannon, their handmade habanero pepper jelly and seasonal preserves will be stuffed both inside and outside of Voodoo's doughy rounds. There are also promises of a wider savory selection, and a re-vamped bacon maple bar to outshine the pretenders. Because, as Shannon puts it: "We are the O.G. of the BMB."
Shannon and Cat Daddy plan to re-open on May 30, tentatively, for Voodoo's 8th birthday. Grand re-opening plans include a doughnut celebration of sorts, and maybe even a Willy-Wonka style golden ticket to the juju wonderland behind the counter. Stay tuned.