Long Story [Short]
The Wildcrafter
Lars Norgren, 51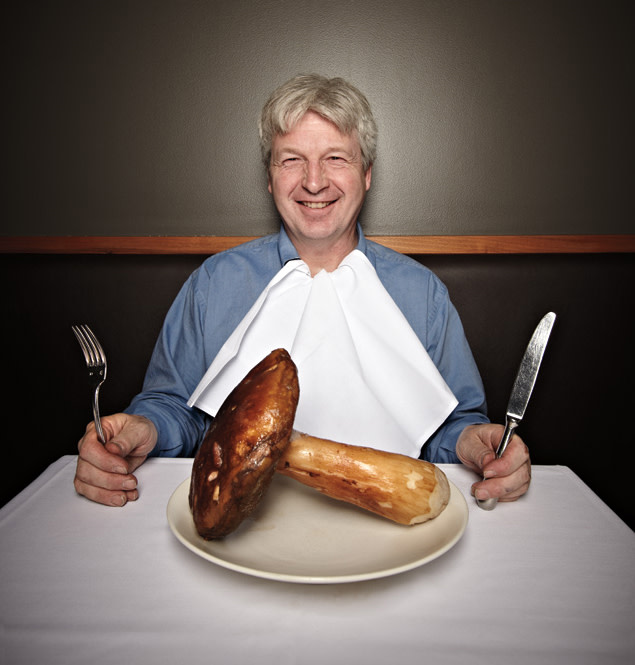 MY DAD WAS INTERESTED IN mushrooms when I was a kid. Euell Gibbons's book Stalking the Wild Asparagus had come out—he was a huge inspiration. At Reed, I started picking chanterelles in Tillamook State Forest when I didn't have class. It took forever to find just one. It turned out I was looking under the wrong kinds of trees. Somebody had told me they're under maples and hemlocks … that couldn't have been further from the truth!
FORAGING IS A QUEST. It's like a crossword puzzle. You're equipped with some clues, so it's satisfying when you finally find the answer. One of the rarest mushrooms I've found was the Boletus barrowsii, which I picked on my birthday in 1987. It's a pearly gray species of porcino, typically found in the southern Rockies. I found them in the woods east of Arch Cape while looking for chanterelles. I wrapped them in a sleeping bag and took them to New York City the next day. I've never found them again.
THE WHOLE REASON I got into the business was to be out in the woods. It was a gradual transition to selling, starting in 1984, when I met a carload of Cambodians and tried to buy the chanterelles they were picking for five cents more a pound than they would've gotten at the stores. I'm still doing business with them. Buying and selling was a nuisance to me in the beginning, but it was hard to justify picking when I picked only 40 pounds on a good day and could sell 100 pounds a day. The real money is just being on the phone.
THIS FALL WAS one of the three biggest harvests in 25 years. People were waiting in line to sell me truffles, and I was turning them down. It's a niche market, so oversupply is the problem more often than lack of product. What we pay pickers varies with availability. Almost any one of the items can get into the double-digits on rare occasions—that's what always gets the publicity. But at peak season, we tend to pay anywhere from one to six dollars a pound, whether it's mushrooms or wild vegetables.
TWENTY YEARS AGO, wild mushrooms were a novelty item. You had to push them. Nowadays, they're mainstream. Look at Castagna. They say "Wild Foods" on the menu—it's like seafood, a category. Porcini were a hard sell 20 years ago, and now they have universal recognition. The curiosity level has increased. The number of chefs who pick recreationally is also way, way up. One kitchen out of three has one or more employees who regularly hunt mushrooms.
WE MIGHT SELL OVER 1,000 POUNDS of nettles in the spring. The demand for edible weeds like nettles and wood sorrel has doubled each year over the past three years—but it's still marginal to the mushrooms. People want the local product, and they'll pay quite a bit at this point. The kids hate it when we sell edible weeds at farmers markets because they generate so many questions. A hundred people will ask what they are—it's just mentally exhausting.