Travel Guide
Mission Astoria
Going coastal includes fantastic food and beer options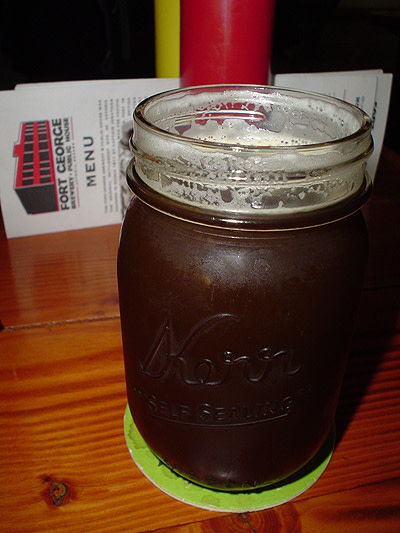 The unicorn drawing on the chalkboard menu over the bar immediately inspired me to dig out my camera. As I rummaged bicep-deep in my bag, my boyfriend leaned over and quietly pleaded, "Can you take pictures when we're leaving?" with an undertone that said, "You're making us look like tourists."
If you're hanging at Fort George Brewery and Public House in Astoria on a Friday night, you're bound to encounter troupes of small-town, coastal folk right out of Central Casting—young ladies in tie-dye shawls, working stiffs with boots to match flying the (unironic) flannel, middle-aged moms with cats-eye glasses. But the mingling here is a bit different. At the bar, a scruffy blue-collar worker chats up a dapper bike enthusiast. Dudes sporting concert shirts are out for beers with their gal pals. A grey, windswept couple snuggles at a corner table.
The Public House is by no means a large space, but with its tall windows on all sides, it feels intimate rather than crowded. Its floor-to-ceiling woodwork is something you'd expect from an upscale restaurant with budget to spare. Luckily for Fort George, this beautiful detail was inherited with the original (and then dilapidated) building. If you're fortunate enough to have sunny weather, make sure to grab a seat on the deck, which is foreground to their gleaming vats. If not, grab a table in the back and look in at the brewery operations. Fort George also has acquired a few quirky pieces—metal spider sculpture hanging from the ceiling, sock monkey painting by the door—which makes it a little homier. In the Northwest brewery tradition, Fort George doesn't take itself too seriously.
Drinks come served in mason jars. This detail is usually cute and exotic only to those who haven't regularly attended BBQ's where jars are the vessel of choice. Thankfully, a gimmicky peanut-strewn floor is not part of the (floor) plan.
Fort George has seven of its own regular brews, and a half dozen rotating taps with pints priced at $4.25. But be warned: this place is hopping and cannot always keep up with demand. So don't have your heart too set on trying, oh, say the Quick Wit, which you have been eyeing on their online menu all week. That particular tap might just be dried up.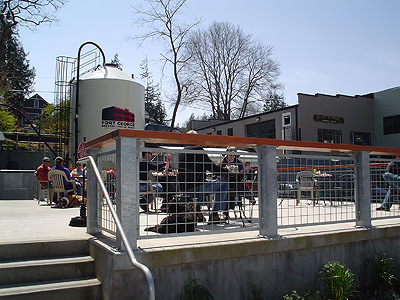 You really can't go wrong with anything on their beer list. The Nut Red Ale is a cloudy, reddish-brown, which might lead one to believe it's on the heavy side, but that preconception disperses quickly, just like the thin, off-white head that tops it. This beer favors chocolaty malts over hops, and pumps out roasty, sweet flavors with a rich, nutty hang. I avoided the impulse to shove my nose in for a good sniff. The Vortex IPA, on the other hand, is a hoppy powerhouse and as is the case around these parts, perhaps the most popular beer in the house.
When I saw brats as the special ($8.50), I didn't really give the rest of the menu a chance. Oddly, it was served without a bun—a strange occurrence considering the Blue Scorcher Bakery Café's exceptional bread comes from right next door, and is featured everywhere else on the menu. (On a side note, if you find yourself in need of a pick-me-up at a hipster hideaway, Blue Scorcher brews up a lemon cardamom latte for around $3 that is remarkably refreshing for espresso.) The brat had a light browning, rather than deep, charred lines. Inside the meat was light, juicy, and lean. A side of caraway mustard and not-too-sweet coleslaw added a much-needed kick. It was a light summer meal, but I walked away feeling as if I had pulled the stereotypical date order (i.e., "I'll have the salad.")
On being told that the day's burger special was out, my BF went with the Anaheim Pepper Burger ($9) with mixed greens and a generous slab of roasted pepper, much to my envy after tasting. Although the menu sports a mostly meat assortment (burgers, sandwiches, steak), the folks at Fort George do their veggies right—cooked through and a little crispy. Unfortunately, there are only two vegetarian entrées on the menu: a cheese and bean burrito and the falafel. They are also rug rat friendly, with a laid back environment, kid's menu, and a wasabi ginger ale on tap that isn't too spicy or too sugary.
If you've a yen for seafood, Fort George serves a range from fish and chips to pan-seared oysters that won't send your wallet down to Davy Jones's locker. My recommendation, though, would be to walk two blocks over to Bowpickers, which operates out of a converted gillnet boat. Bowpickers works the less-is-more angle with a delicious beer-batter albacore fish n' chips that is only possible out of a hole-in-the-wall joint. A full batch with fries will cost you $10, but the six hefty pieces is enough for two. That is, if you're generous enough to share.
My expectations of small, coastal towns can usually be summed up by an abundance of pastel-colored churches, hemp jewelry, and rainbow wind-catchers. In truth, I was eyeing every corner for a palm reader. What I found was an intimate, but active, dining scene and a solid selection of local craft beer. (Fort George's stock of 16 oz. cans, launched in March, ran out more than once in the first month.) After four years, residents have settled into Fort George's public house as if it's always been there. Astoria, I have to admit I drank the Kool-Aid. And by the Kool-Aid, I mean the beer. I'll be back with my growler.