FOOD AND WINE EVENTS
Beaker & Flask Brings the BBQ
Start getting in a Summer state of mind with Beaker & Flask's Picnic in the Parking Lot.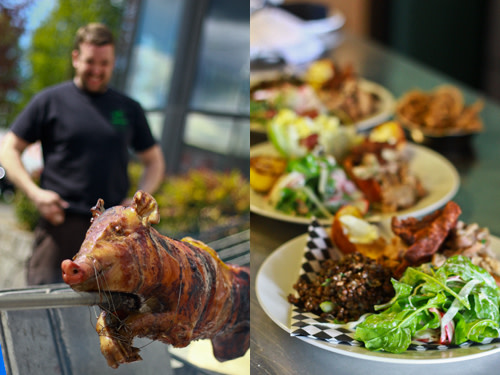 Benjamin Bettinger kicked off the weekly Beaker & Flask Tuesday Night Barbecue long before most people in Portland ate breakfast. The chef was up early spit roasting a Carlton Farms pig over hot coals in the parking lot, filling the morning rush hour with fragrant smoke. It was all in a day's work for the Central Eastside eatery, which will be offering up a plate full of picnic favorites and accompanying wine and cocktail specials every week through the sunny season.
The pork is the star of the feast. Bettinger brines the whole pig in an orange zest-infused elixir, stuffs it with more citrus, and spins it slowly, hour after hour, until it literally falls apart. I arrived early to snap a few shots of the roasting pig before it came off the spit, and as I was shooting pieces of tender meat began dropping into the fire. A melee ensued as Bettinger jumped to catch the pork before it all ended up in the ashes, and I was treated to one of the first sizzling bites off the pig. The orange came through beautifully, brightening the savory decadence of the succulent meat, a testament to the chef's early morning endeavors. In upcoming weeks, the Beaker & Flask team will tackle whole goats, lambs, and a few more pigs, giving any barbecue joint in town a run for their money.
Acting as backup singer to Bettinger's main course lead, Beaker's new sous chef Anthony Walton will whip up three new sides every week, making the most of Portland's seasonal bounty. This week's options included three flavor-packed salads: zesty lentil and grilled asparagus; a classic wedge with iceberg lettuce, shaved hard-boiled egg, bacon, and ranch; and a mix of arugula, radish, strawberries, and goat cheese. The colorful, fresh sides let the pork shine, and the $5 wine selections are guaranteed perfect pairings for an evening of great food and sunshine. A whole plate of food, including a pile of pork, cornbread, and two sides, is only $20, but the first taste of summer is priceless.