PAIRINGS
Beer Meets Grill
Because fine food and craft beer constitute the latest culinary dream team, we asked three local brewers to share their favorite BBQ recipes—and explain which summer brew will best accompany their dish of choice.
July 4 (or any other date through September) is the perfect time to pair up two good friends: beer and barbecue. Since we live in a place where a recent governor declared July to be Oregon Craft Beer Month and ranch to table is tradition rather than trend, let's make that really good beer and barbecue. We invited three hometown brewers, who also have some serious culinary chops, to help you match-make. They all prepared a brew-inspired backyard bash with one of their own handpicked summer seasonals. For each menu, we added three of our personal picks, too. Don't be afraid to set them up with your own favorite grill grub. These beers all share a subtle range of fresh flavors and have a modest alcohol level (6 percent ABV or less), which means they'll pair well with just about anything. So sit back and watch the sparks fly. Don't forget to try out the recipes at home. (Download them here.)
PLUS! Our Picks for the Best Local Summer Brews:
AND Web Exclusive Side-dish and Dessert Recipes from Our Brewers!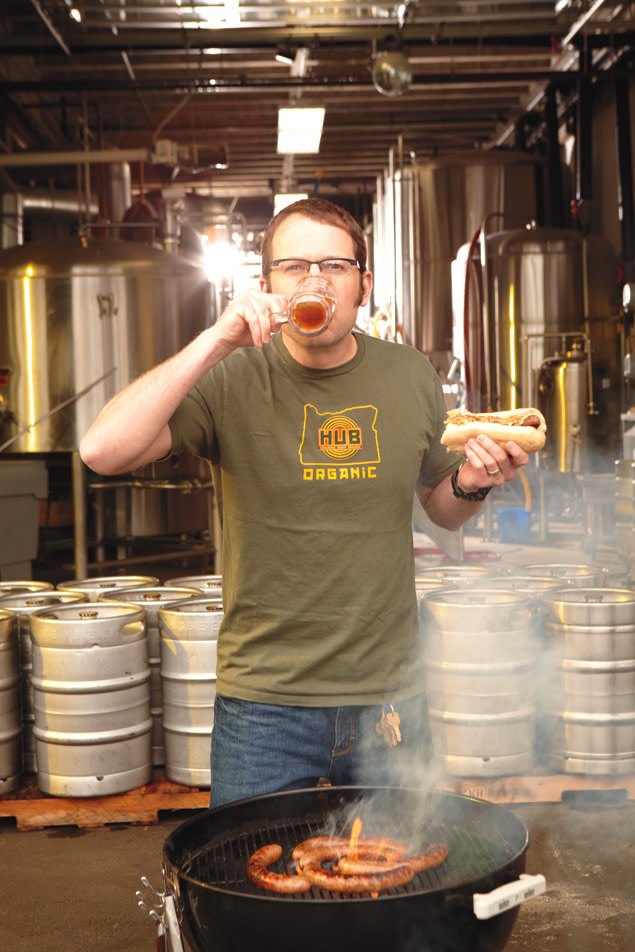 The Hopworks Urban Brewery founder has had a nearly lifelong fascination with beer ("It's the perfect marriage of art and science—with a little inebriation thrown in"), from disastrous early experiments with malt and hops in his parents' kitchen to a semester spent in Germany learning about traditional European brewing culture. Over the last 16 years, Ettinger has served as brewer for Eugene City Brewery and Laurelwood Brewing. But since Hopworks' inception in 2007, he's also had a hand in devising the pub's signature comfort food. It's instinctual, Ettinger says, crediting his German heritage. "Even the food is beer driven."
ETTINGER'S

PICK
HOPWORKS ORGANIC LAGER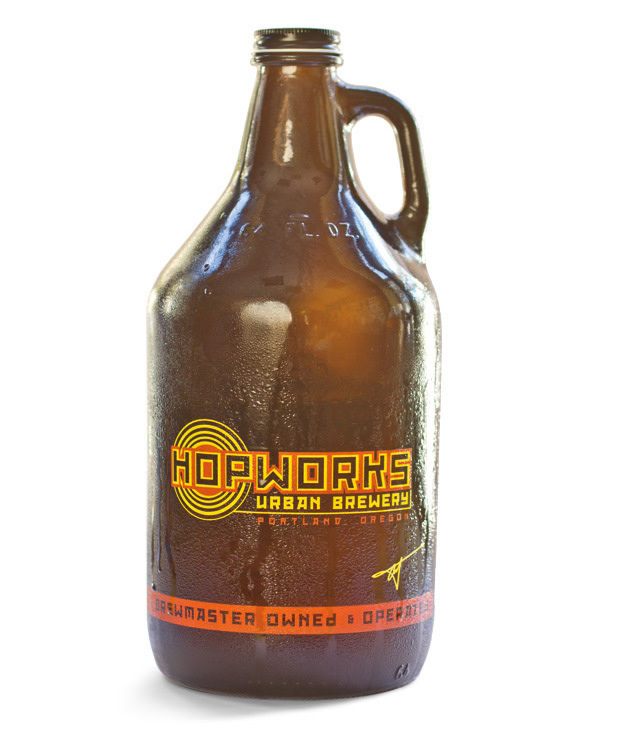 Anyone who still carries a torch for bland mass-marketed suds needs to be properly introduced to this lovely lager. Balanced and buoyant, it's an easy-drinking beer with surprising body and complexity.
Ettinger says that the beer derives its character from the inclusion of Saaz hops. "The lager is crisp and dry, but the spiciness of the hop acts as a flavor hook for the pepper and garlic. And when the sausage begins to caramelize on the grill, the honey and malt characters bring out the delicate flavors," he says. "These flavors all exist in your palate, so it makes sense for them to play off each other rather than beat each other up."
MENU
Black Pepper Garlic Sausage and Lager Mustard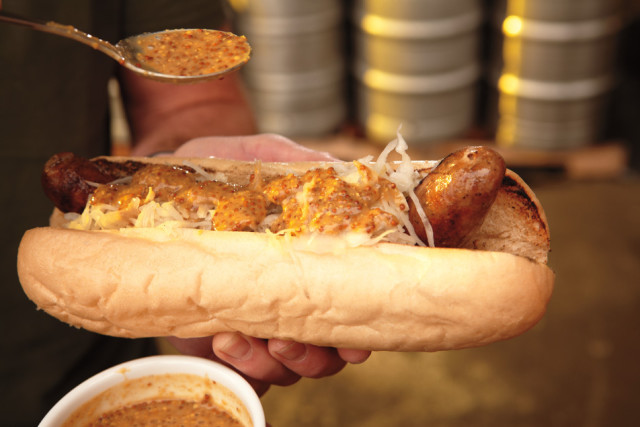 BLACK PEPPER GARLIC SAUSAGE
Poach the sausages (from Olympic Provisions if possible) in boiling water and lager (3 parts water to 1 part beer).
Place fully cooked sausages on grill to mark.
Add grilled sausage, sauerkraut, and lager mustard to a fresh hoagie roll.
LAGER MUSTARD
Mix HUB Organic Lager with Inglehoffer Stone Ground Mustard, 1 part beer to 3 parts mustard. Whisk briskly.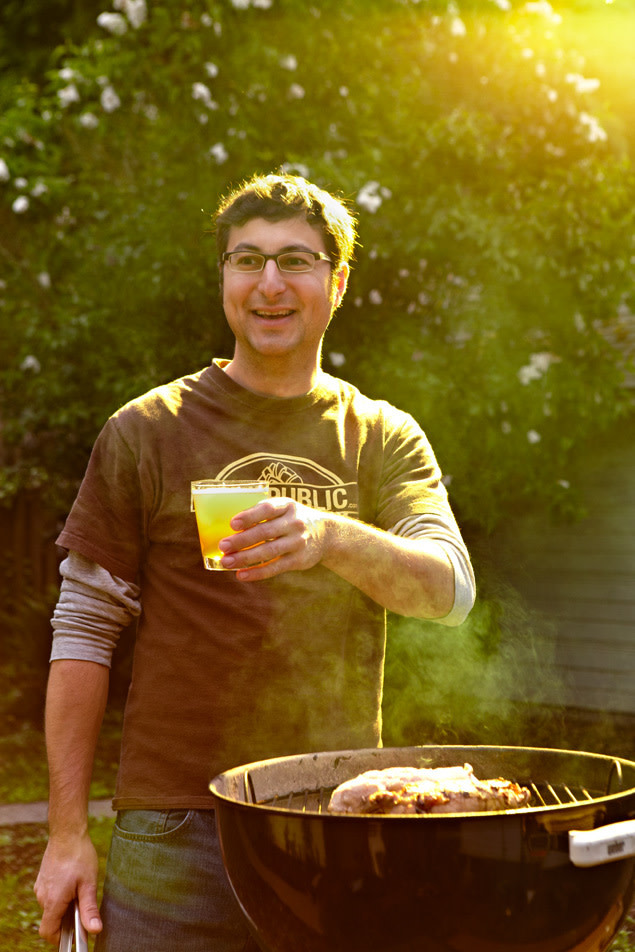 Alex Ganum was a brewing virgin when he moved to town 10 years ago, but he had the good fortune to immediately fall in with a merry band of homebrewers. He went on to apprentice at upstate New York's famed Belgian-style Brewery Ommegang, then returned to Portland and started Upright Brewing in 2009. Last year he became a co-owner and beer curator for Grain and Gristle restaurant. His family hails from Argentina, where huge, daylong cookouts are commonplace, and he fervently believes that sweetbreads (the thymus gland of a cow) is not only a superb addition to any barbecue, but that it's criminally overlooked here in the Northwest.
GANUM'S

PICK
UPRIGHT FOUR (FARMHOUSE WHEAT)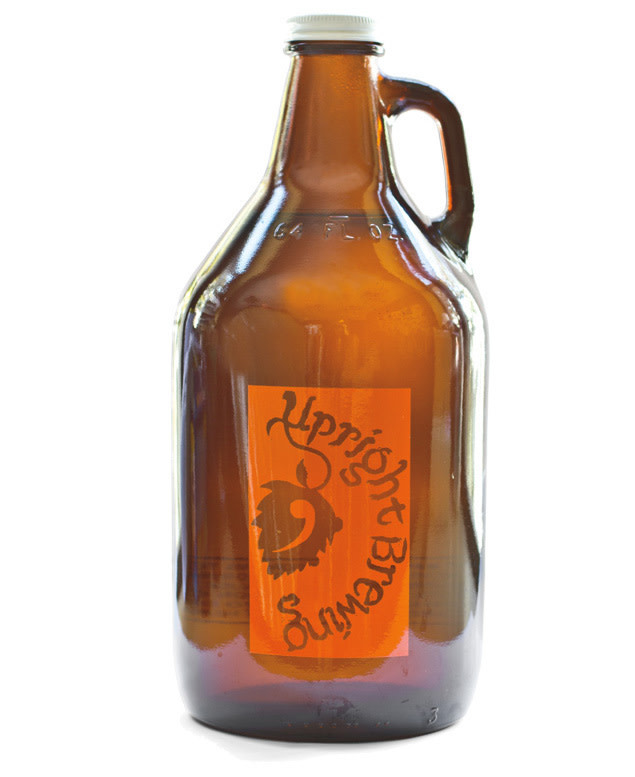 The most popular warm-weather beer in Ganum's ale arsenal, the Four crackles on the palate with a subdued hop count but an infinity of malt characteristics.
Ganum selected this beer for its mellow temperament—the ideal mate to his gutsy, Argentine menu. "It doesn't overpower anything," he says. "The sweetbreads are delicate, so the beer and food match up perfectly." He likes a beer that lingers on the taste buds to maintain flavor accumulation. "The Four has a long finish, which draws out the fatty flavors of the sweetbreads," he says.
MENU
Grilled Sweetbreads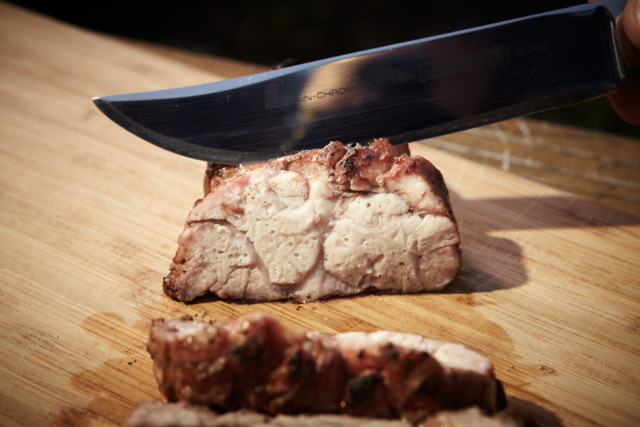 3 whole sweetbreads (available at Laurelhurst Market or Chop Charcuterie)
The preparation is simplicity itself. Ganum says to blanch the sweetbreads in boiling salted water for 1–3 minutes, or until firm. After cooling in ice water and drying fully, salt the meat liberally and cook on medium heat for 20 minutes—flipping once or twice—until a crispy crust has formed on both sides. Cut into medallions and serve. One sweetbread should feed two people. Add a squeeze of lemon to brighten up the flavor.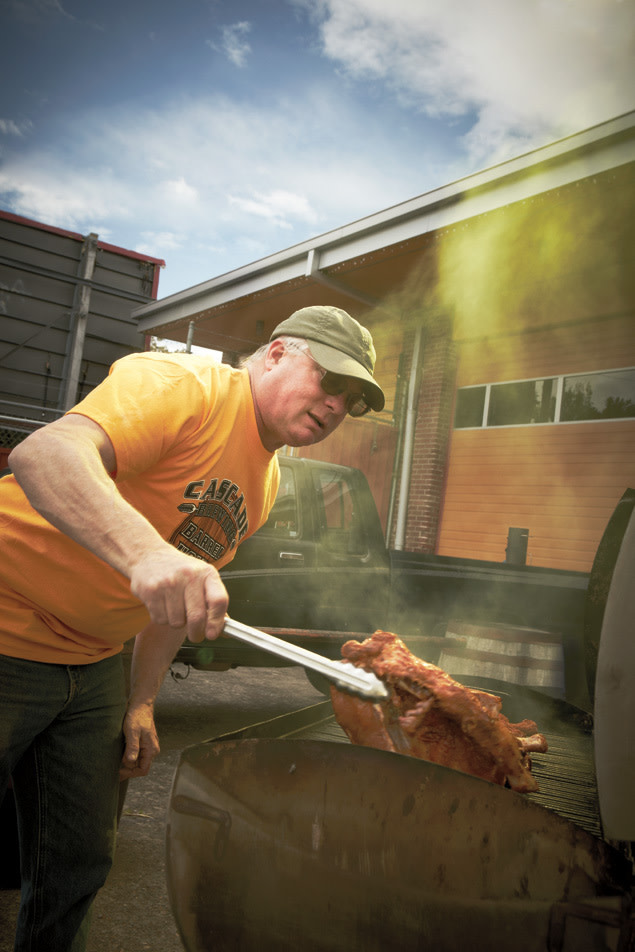 Résumés among Northwest brewers aren't built with more bona fides than Gansberg's. Even before his 13 illustrious years with Cascade Brewing, he spent time with Portland Brewing and Bridgeport. If there's any doubt that he was born for his job, consider that at age 12, he became his neighborhood's root beer baron. Culinary instincts run deep in his Celtic-French family tree. Or as he puts it, "There's Brittany, Normandy, Gourmandy, and Gluttony."
GANSBERG'S

PICK
CASCADE SUMMER GOSE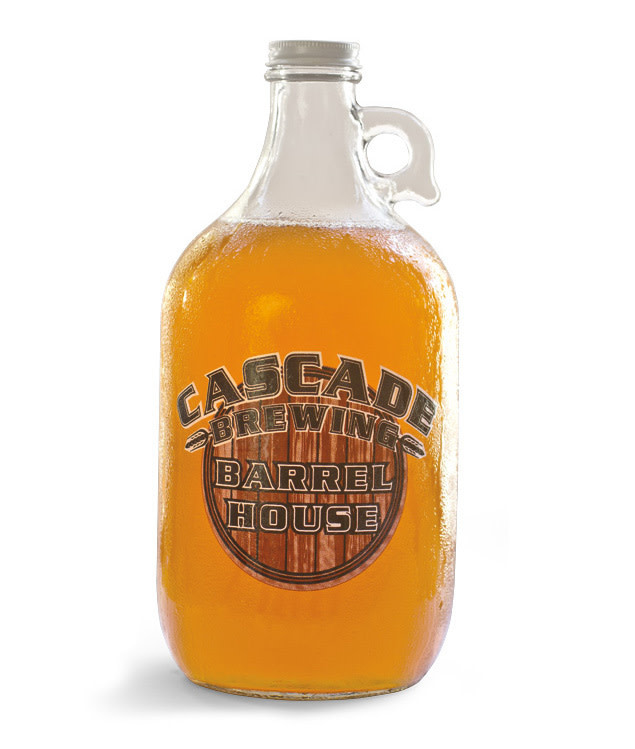 Cascade's seasonal comes from a 1,000-year-old German style recently resurrected from obscurity. It's an unfiltered wheat beer that presents a parade of different flavors, from lemon to sweet malt to lightly sour to a tingle of salt.
Gansberg explains that his curry rub imparts "fairly intense" flavors to the chicken. The lemon and "ephemeral sweetness" from his beer blends nicely with the bird's hot, peppery personality. But, he adds, the acidity and carbonation of the Gose also cleanse the palate. "There should be an evolution of flavor with each bite," Gansberg says. "I want to have a clean palate so I can taste the other things on my plate."
MENU
Grilled Chicken With Rub
2 tbsp yellow curry powder
1 tbsp paprika
1 tbsp cracked pepper
1 tbsp salt
½ tsp cayenne
Combine ingredients in a bowl and rub thoroughly on one chicken—apply less rub for a chicken that's been halved or quartered. Refrigerate bird for 4 hours to let flavors absorb before grilling. Slow-cook till tender on medium heat. We recommend chickens from Taylor Made Farms, which can be purchased from Eat Oregon First. But Draper Valley chickens are just fine and easier to get.