BREAKING FOOD NEWS
Café Velo Shutters
Downtown food gem closes abruptly…but a possible Lauretta Jean's merger is in the works.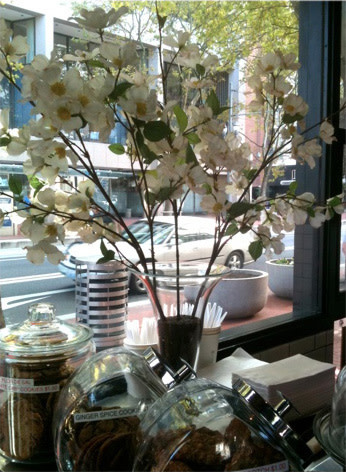 It's a sad day for the 9 to 5 downtown crowd. Café Velo, the teeny take-out café wedged on the downtown Portland bus mall at SW Pine Street and 6th Avenue, has closed its doors for an undetermined period of time.
Café Velo is best known for its excellent pour-over coffee stand at the Portland Farmers Market. But the brick-and-mortar outpost stood as one of Portland's hidden gems, the kind of "find" that makes Portland a hotbed of food craft. Owner Rick Wilson and his friendly crew spent the past year cranking out incredible North African dishes, from pitch-perfect falafel on hand-rolled flatbreads to order to heart-warming paella, all inside a curated corner space filled with cookbooks, tajine pots, and flowers.
Wilson closed the shop to regain focus on his mobile coffee business: "We will continue to offer Café Velo's signature selection of artisan roasted and single origin pour-overs," he told Eat Beat.
But the closure may be temporary. Wilson says he has tentative plans to re-open the storefront with fellow Portland Farmers Market vendor Lauretta Jean, the standout pie "shop" run by Kate McMillen and Noah Cable. With any luck, a homegrown pie and coffee duo could make an unsung corner a downtown power strip, alongside Little Bird and the soon-to-open branch of Bunk Sandwiches next door. Stay tuned.