EAT THIS NOW
The Bomb Banh Mi
Northwest newcomer Lela's Bistro serves Vietnamese banh mi with a fresh perspective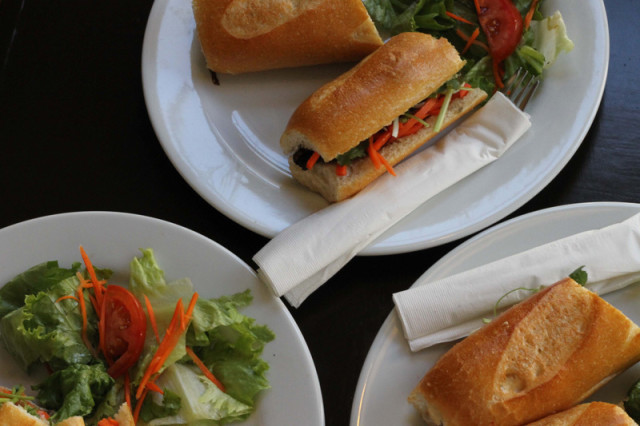 When it comes to the perfect banh mi—the traditional Vietnamese submarine style sandwich—some connoisseurs think it's go literal or go home. But at Lela's Bistro, owners Laura Le and Min Matsumoto have dared to stretch their sandwich imaginations past the traditional blueprint.
Not that Le and Matsumoto don't know their way around the conventional banh mi sandwich, typically anchored by variations on cured and cooked pork and enfolded in a crisp baguette. After all, Le's parents own the respected 30-year-old Binh Minh bakery in Northeast and Southeast Portland, longstanding provider of perfectly golden fresh baguettes and some of Portland's best banh mi sandwiches on the cheap.
Here, at Le's second-generation bistro, you might find a terrific Beef Bulgogi bahn mi ($6.5) rolled with marinated bites of Korean beef and wedged with an expertly spiced, pickled, and salted home-made Kim Chi courtesy of Matsumoto's mother. This is a menu built on layers of hand-me-down tradition, elevated with a new twist.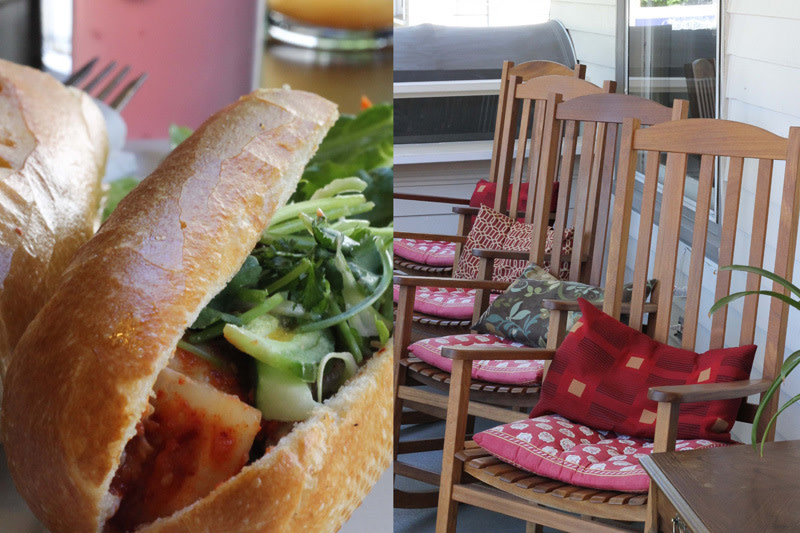 The fixin's at Lela's aren't exactly conventional Vietnamese…and neither is the dining room. The newly opened bistro is housed in a century-old Victorian on Nob Hill that has held on to its "homey" ambiance. The front porch is lined with cushy rocking chairs, and the wooden interior, ornamented with Vietnamese street photographs and vases of white orchids, is allegedly haunted. Don't let that deter you however; the food here is delicious.
Lela's Bistro offers a dearth of vaguely southeast Asian flavors like vermicelli rice noodles, salad rolls and house-made sodas, but the kitchen fixates on their 10 banh mi varieties: everything from the meat-centric "Traditional" ($4.55), packed with steamed pork, sliced "cha lua" (Vietnamese ham) and pate to the vegan-friendly "Grilled Portobello,"($6.5) charred and brightened with ginger-garlic sesame soy sauce.
The flaky, 12-inch baguettes here are key; Le gets daily deliveries from her parents, whose longstanding baking business fostered her own love for Vietnamese street food as a child. Each sandwich comes, baguette-bound, with cool cucumbers, sweet pickled vegetables, a bushel of cilantro, sliced jalapeno peppers (optional, for heat lovers only) and a swipe of garlic mayonnaise.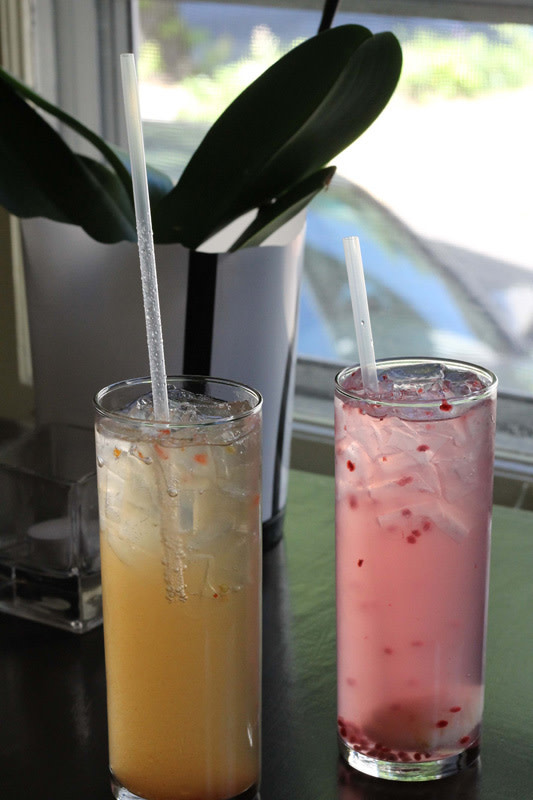 There are some clear standouts amongst Lela's customizable lineup. A roasted pork belly banh mi ($7) is rich and satisfying (albeit pricey for its modest street food origins) with heavy bites of cinnamon and star anise, second only to the Beef Bulgogi.
You can do better still: Lela's house-made beverages, a barely sweetened Lychee Raspberry fizz and dark, burning tamarind and Thai chili soda are a serious contender for even Pok Pok's drinking vinegars.
Lela's Bistro is still in its gestation phase, and is looking to expand its menu into the realm of Portland's competitive ph? scene. For now though, you can sit back in your rocking chair, tamarind soda in one hand, banh mi in the other and rest assured; the ghosts of Nob Hill can't reach you out here.
Lela's Bistro
1524 NW 23rd Avenue
503-719-4744
Tues-Sat 11am-9pm; Sun 11am-3pm