EAT HERE NOW
The Power of Pita
Wolf & Bear's Israeli food cart in Southeast Portland serves unrivaled falafel—and plans to expand northward.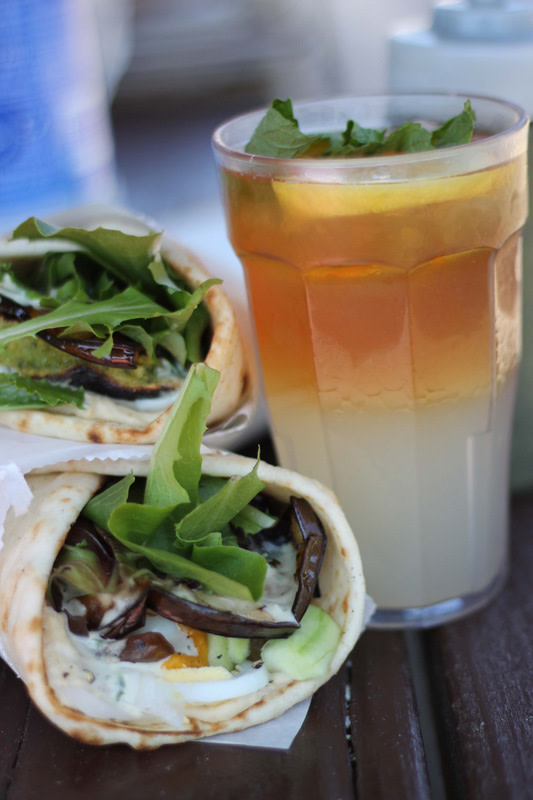 Wolf & Bear, aka Tanna Tenhoopen and Jeremy Garb, just might be the coolest cart owners in Portland, breaking through the food scene with a serious little Middle-Eastern kitchen in a personalized trailer as homey as a front porch. Garb stands with steely gray eyes and a severe Israeli demeanor, flipping his sprouted chickpea falafel next to Tenhoopen, stylish but funky and wearing a huge, bright smile. Over the past three summers, the twenty-something duo have propagated a die-hard community of regulars—vegan and carnivore alike—who line up for homemade hummus, a grand breakfast sandwich, Iraqi-style, and the finest falafel to be found. In short: the most inventive Middle Eastern food in Portland for breakfast or lunch.
And now they are branching out.* Eat Beat has learned that Wolf & Bear's will be moving north to Mississippi for the winter, into the space outside of Land Gallery between N Shaver and N Failing Streets.* They plan to set up a permanent outpost there in the spring, adding a second location to their small fleet of hand-made Middle-Eastern cuisine.
The couple—known by their nicknames, Wolf and Bear—met in Guatemala as globetrotters (Garb from Tel Aviv and Tenhoopen from Vermont) and in the summer of 2009, set up shop in a 1953 camo-green trailer built by Tenhoppen's grandfather. The trailer has become a familiar site at the corner of SE 20th Avenue and Morrison Street. It's the lone cart settled in the middle of the dusty lot, with a small crowd amassed under their road-warrior style tin roof add-on. Some park themselves at the picnic table, while others head for the swinging bright blue lounge seat.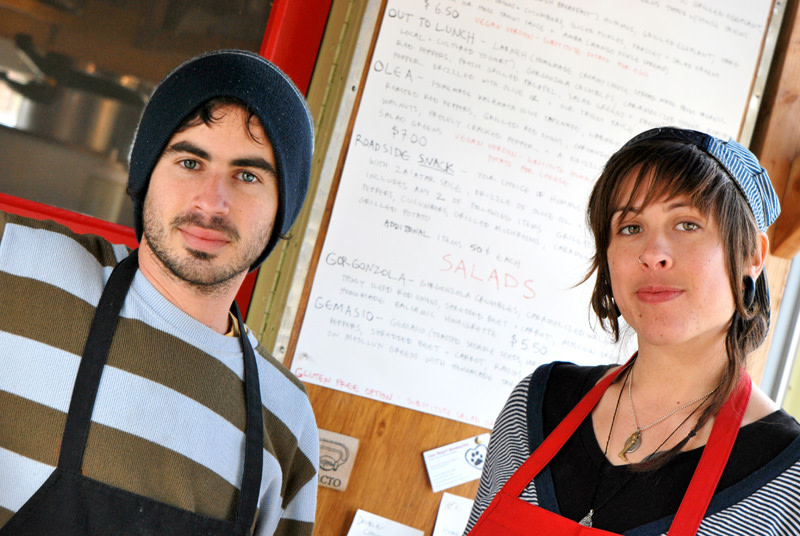 So how did Wolf & Bear's become the Buckman neighborhood go-to spot for people of all ages and dietary lifestyles? For starters, the falafel ($6.50) features sprouted garbanzo patties, grilled to order, and tremendously flavorful—a healthy improvement over the usual deep-fried chickpea mash at most Middle Eastern restaurants. The crisped patties are slotted into warm, fluffy pita bread, swathed in home-made tahini paste and creamy labneh (Greek yogurt), then layered and rolled with caramelized onions, roasted red peppers, and grilled eggplant. Zealots dump precipitous amounts of the Wolf & Bear's bright green jalapeno-cilantro hot sauce into their pillowed pita bread.* Squeeze, bite, and repeat. (You can also buy the hot sauce at Foodfight Grocery on SE 12th Avenue and Stark Street, where Garb and Tenhoopen sell small-scale jars by popular demand.)
As good as the falafel is, you don't want to miss Wolf & Bear's Israeli "breakfast sandwich." The Sabich ($7), as it's called, is an ingenious pita roll traditionally eaten for breakfast by Iraqi Jews. I wake up nowadays with a deep hunger—an empty void only the Sabich can fill. Inside the grilled confines of your pita lie slices of hard-boiled egg folded with house-made hummus, eggplant, onions, and crisp cucumbers, all dressed in amba—a tangy mango-pickle condiment popular in the Middle East. It's revelatory. Eat it.
Garb and Tenhoopen's food is as refreshingly novel and well-executed as it was in 2009, when the food cart scene exploded into something new and different. With the permanent expansion northward, Wolf & Bear's plans to augment its menu with hearty soups and a few more breakfast options to battle the sleet-gray skies of winter. After two years and some 600 local food carts in the mix, Wolf & Bear's stands alone, serving up what is arguably some of the best Middle-Eastern food around town.
Wolf & Bear's
SE 20th Avenue & Morrison Street
Tue–Thu, Sun 12–8 p.m.; Fri–Sat 12–10 p.m.
eatwolfandbears.com