EAT HERE NOW
Power Lunch at Clarklewis
In its second coming, Clarklewis delivers a notable lunch menu for the Portland business crowd.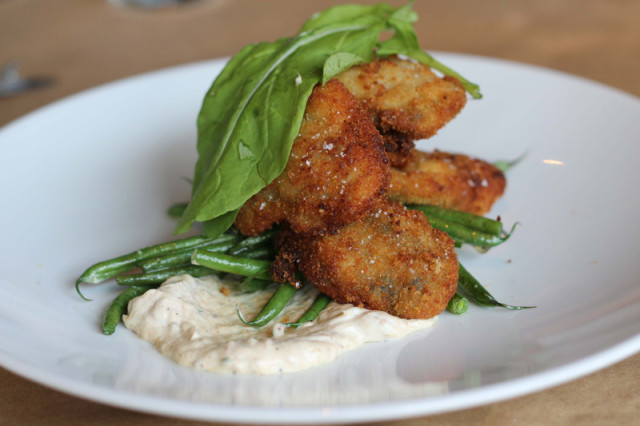 The dining room at Clarklewis is packed at lunch. These are not the seekers of the next food frontier cooked up by the original Ripe owners in 2004, yet here they are: businessmen with portfolios, young couples with their parents, and ladies who lunch, abuzz in restaurateur Bruce Carey's industrial-chic hangout. Years after the media noise has dimmed, Clarklewis has emerged with a new identity: Portland's new power-lunch spot, with a focused kitchen and beautiful space to match.
White tablecloths now cover the tables, but the former warehouse space maintains its original flavor of casual cool. Huge garage doors hang agape around the entire building, the smell of smoke pumps from the open wood-fired oven, and an attentive wait staff stands within reach.
The lunch menu—simple, seasonal, contemporary American food—is executed with conviction from behind the open kitchen. Since 2007, former Bluehour chef Dolan Lane has come into his own. Solid flavor profiles and the occasional out-of-the-park sandwich mingle with approachable ingredients attuned to the seasons.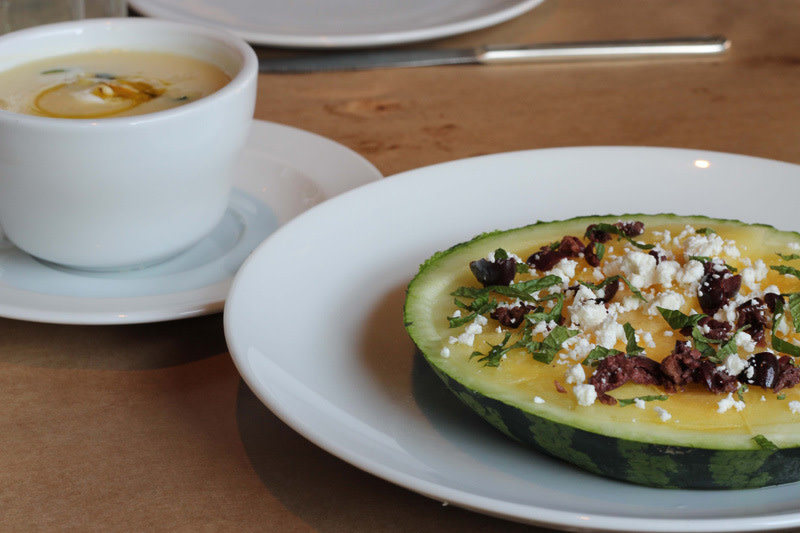 Grab a refreshingly balanced salad—a thick disc of yellow watermelon topped with crumbles of local feta and black morsels of Niçoise olive and fresh mint. Or opt for the seasonal soup—sweet corn soup might not be a revelation, but it's a bowl of quiet excellence: just juicy, sweet kernels of corn, tiny triangles of grilled zucchini, and a dollop of crème fraiche.
The trimmed list of fresh entrees includes a tender steak sandwich with sweet and spicy roasted peppers and a big kick of horseradish and crispy fried Willapa Bay oysters, their juicy, briny centers over smoky aioli and crunchy haricot vert.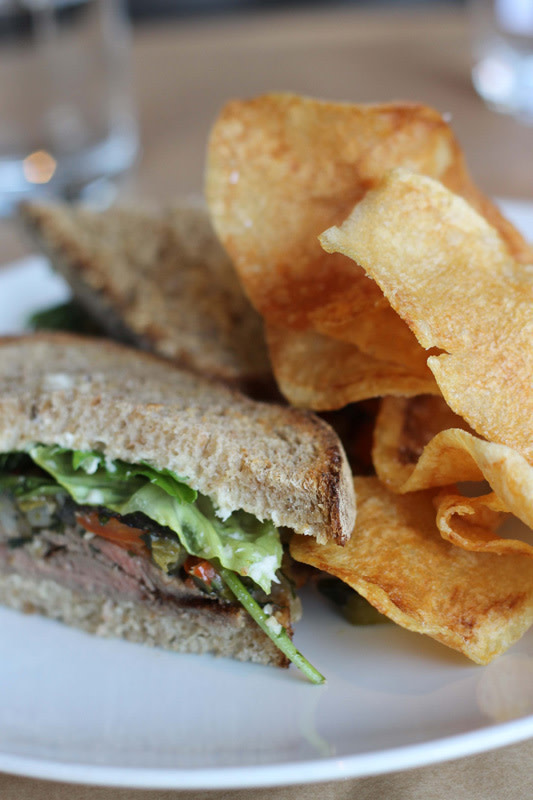 The real find, though, is the seemingly modest chicken salad sandwich, with plush bites of spit-roasted chicken, a crunch of celery, and fresh-baked sourdough layered with a thin Gruyere veneer. So far, amazing. But even better: the side of homemade salt and vinegar chips—oversized golden crisps of pure salt and tang.
This breed of restaurant, where you can wear a suit and talk shop at noon while still eating quality fare, has nearly vanished from the Portland dining scene. In a city of communal tables and pig parts, Clarklewis has found its niche in a stepped-up, accessible menu, with enough charm to impress a discerning client or worse—a finicky parent.
Clarklewis
1001 SE Water Ave
503-235-2294
Lunch Mon–Fri, 11:30–2
Dinner Mon–Thur, 5:30–9, Fri-Sat, 5:30–10