FIRST IMPRESSIONS
Olympic Provisions NW
Olympic Provisions' new Northwest branch takes dinner beyond the realm of charcuterie.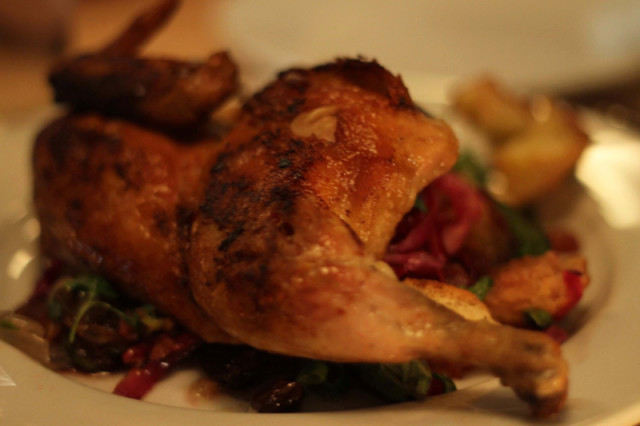 A roaring furnace slowly crisps whole, rotating birds at the center of the room, and the smell is intoxicating. A glaring fluorescent display case hums above Portland's best hams and frankfurters, lighting up the entire restaurant. Meanwhile, Motown jives from the hyper-clean gray and white space, and sets a casual vibe. Welcome to Olympic Provisions Northwest.
The charcuterie may share casings and sausage styles with the Southeast Portland original, but this 6-month-old restaurant is a completely different animal with its own chef, feel, and flavors. The expertly stuffed sausages and salamis are here—and they've grown in number with the new charcuterie facility out back—but chef Erin Williams is making her own statement with a small and addictive repertoire of European and American dishes.
The lunch menu is an endlessly satisfying list of fresh-cured meats, hearty sandwiches, and top-notch frankfurters, but it's the dinner menu that really brings OP NW into its own—a short and sweet mix of charcuterie, pickled bites, seasonal soups and salads, and laid-back entrees from beef sugo pasta to a simple, perfectly prepared rib-eye steak.
First and foremost, order that chicken. You can tackle it whole ($22), or opt for a half-sized portion ($17). They emerge from the rotisserie, plump and juicy with crackling golden skin and perched on a bed of bread salad, with bites of bacon and pickled raisins to soak up the carnal juices.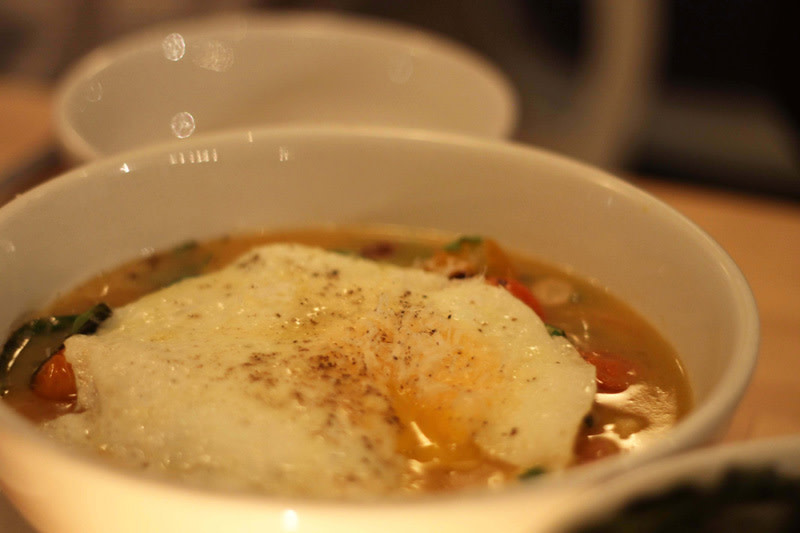 Williams's feel for farmhouse Americana carries over to the fantastic polenta, soupy and rich at the bottom of a deep bowl, bringing bites of fresh summer squash and sweet tomato together under the requisite farm egg ($15). But the best entree has a Catalonian spirit: a juicy, fire-flecked link of chorizo rioja—the kind of sausage that makes OP a rising star in the salumi world—sitting alongside poached albacore tuna in a broth full of fresh green shell beans and bitter Basque frying peppers ($20). It's fantastic.
Some dishes still need work. The schmaltz potatoes, made from the drippings of the chicken and meant to be a signature of the house, fall short of expectation. Drenched with the wonderful musk of chicken, but slightly undercooked and swimming in melted fat with bits of bacon and green onions, they were unforgivably greasy and not worth the $6 tariff.
For dessert, OP offers a little-known gem in the form of chocolate salami. The imitation link is made of bittersweet chocolate and pockmarked with cookie crumbs, nuts, and orange zest, and finally dusted in a coating of powdered sugar to emulate the real thing. The "salami" comes paired with salt and pepper shortbread and tangy marmalade preserves. Taste wins out over the kitsch here: a salty sweet combination, deep with nutty flavor and dark chocolate.
The Northwest space practices Portland's casual cool etiquette, with two long communal tables and an open chef's counter centered on the hypnotic, pyrotechnic antique rotisserie. The din inside can be deafening, but you'll put up with it; in the outer reaches of Northwest Portland, this simple, hearty fare is as good as it gets.
Olympic Provisions Northwest
1632 NW Thurman St.
503 894 8136
Mon-Sat: Lunch 11am-3pm, Happy Hour 3pm-6pm, Dinner 5pm-10pm
Brunch Sat & Sun, 10am-3 pm*