Mark your calendar
Bikes, BBQ & Smokin' Brews
There's still plenty more beer fests on tap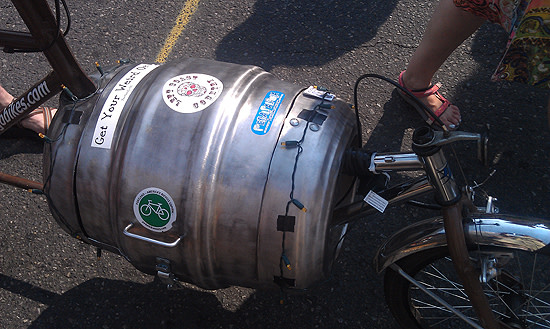 Congratulations on surviving the Summer of Beer, drinking buddies! The one-two punch of Oregon Brewers Festival followed by PDX Beer Week definitely upped the ale ante this year, but for anyone planning on drying out until the Holiday Ale Festival, well, you're not out of the hops yet.
In order to wring the last drop of sunshine out of the summer, the good people at Hopworks Urban Brewery are encouraging bike enthusiasts to peddle over to their flagship pub (2944 SE Powell Blvd) this Saturday for Biketoberfest, a fundraising event for the Bicycle Transportation and Sunday Parkways. It's a car-free party that starts at noon, and attendees can sample 15 HUB brews, watch daredevil cycle antics from BMX stunt riders, get an eyeful of break-dancing demos, and groove contentedly to live music from the likes of Jared Mees, Oh Darling, and Ascetic Junkies. Plus, there will be Huffy tossing, kids activities, and an appearance by the Wanderlust Circus troupe at 8:30 in the evening.
Since you'll be out riding around on Saturday anyway, it would behoove you to spread the wealth and swing by the 10th Annual Laurelfest, a barbecue bash over at Laurelwood Brewing (5115 NE Sandy Blvd) that starts at 3 pm. In addition to a bountiful bargain menu that includes grilled albacore tuna, Dungeness crab salad rolls, double-smoked pork and sausage with beer-soaked kraut, and grilled oysters, the lads and ladies of Laurelwood will unveil Laurelfest Bier; a new seasonal that's described as "Vienna lager style fresh hop beer," Live music from Keegan Smith, among others, also will be part of the festivities.
By next weekend (Sept 24-25) you should be thoroughly recovered, and just in time for Fire & Brimstone, a celebration of "smoke and chili beers" happening at Hop & Vine (1914 N Killingsworth). This two-day taste-a-thon will present devilishly hot and hearty beers from Burnside, Lompoc, Breakside, Upright, Oakshire, Heater Allen, Migration, Coalition, and more. On Saturday evening, the titanic trio of Yetta Vorobik (from Hop & Vine and Brewing Up Cocktails), Ben Edmunds (Breakside), and Alex Ganum (Upright) will tap a special collaborative keg of Smoked Porter that's dedicated to the late comedian Bill Hicks. Reason enough for a party? We think so.