FIRST IMPRESSIONS
Beech Street Parlor
A newly converted Victorian home in Northeast Portland makes for a killer bar space.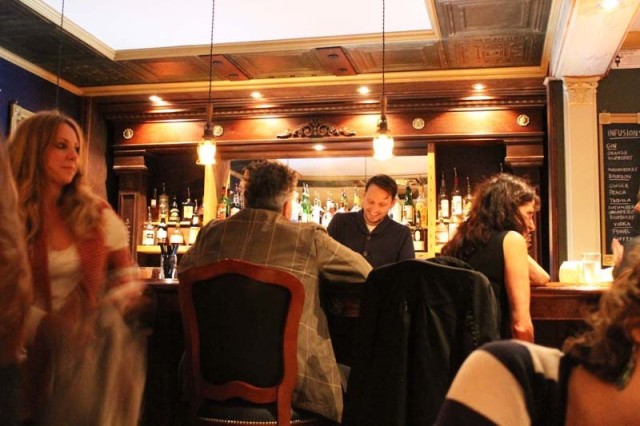 Clambering up the steps at the recently opened Beech Street Parlor, an unmarked, two-story Victorian set just off NE MLK Boulevard, feels a lot like discovering a great house party. Step inside, past the compact front porch lined with ionic columns and protruding bay windows, and you'll find it's much more. Beech Street Parlor has one of the most stunning interiors of any watering hole in the city, with food and drink lagging behind the visual eye-candy.
The owners behind Tiga Bar in Northeast Portland have done a beautiful job restoring the 1906 Victorian home, maintaining its ornate foundations while still oozing Portland's brand of speakeasy cool. Plush embroidered couches line the dimly lit rooms, with copper-pressed ceilings and regal chandeliers hanging from above. The whole thing looks like a period piece.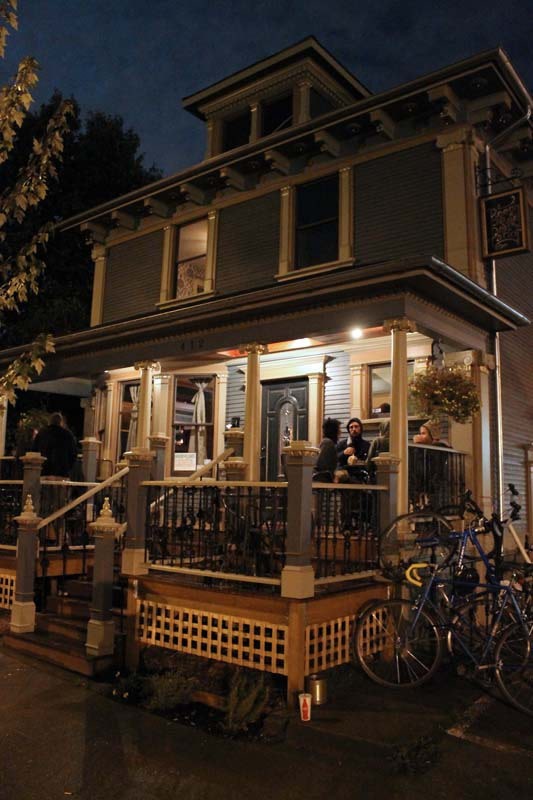 The first floor is anchored by a massive wooden bar, lit with hanging Edison bulbs and packed with neighborhood 30-somethings sipping cocktails from a row of house-infused spirits steeping above the bartender. Marionberry gin, peach bourbon, cucumber tequila, you name it. The infused spirits provide a nice cushion for the $7 cocktails—a selection of hit-or-miss classics that would fair worse without a multi-dimensional streak of orange for the Negroni, or the spicy snap of jalapeno for the margarita.
The kitchen, manned by DOC and Noble Rot alum Henry Kibit, turns out a well-priced menu of dressed-up bar food. You can snack happily here for cheap, with small plates of cheesy leek and potato gratin with a crunch of corn flakes ($6), or a few bites of simply roasted cauliflower with spicy anchovy butter ($7). But there are wrong turns on the menu. Watch out for those French fries ($5)—they taste straight from the cafeteria—or the Pierogie plate ($9), with an oversized hot dog labeled "Kielbasa" and a few helpings of what tasted like canned sauerkraut and sour cream.
Instead, take your drinks and head upstairs, past the permanent DJ turntable fixture in the foyer, for a whole new vibe. This is the place to be—a multi-room lounge with baroque floral designs covering the walls, antique gilt mirrors and a tiny an old-school water fountain fixed in the corner.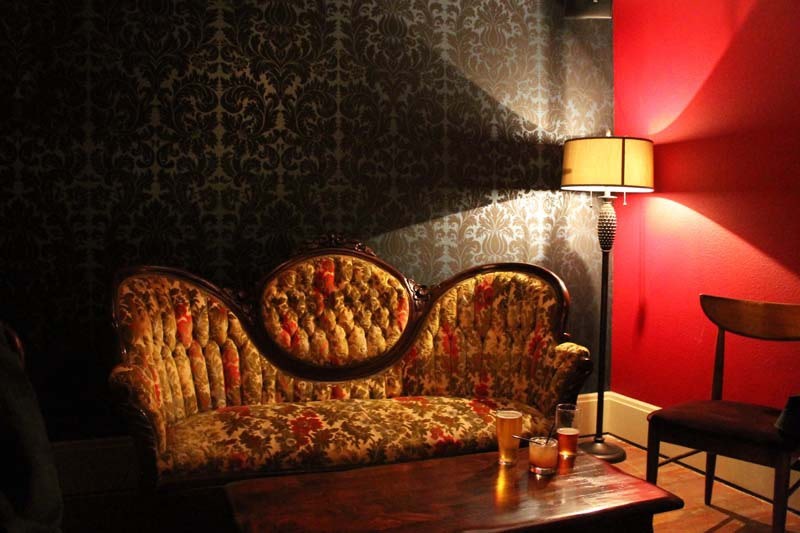 Right now, the atmosphere at Beech Street is fantastic—it's the perfect place to come with friends for a drink, or sip quietly for an after-dinner date. With more attention to the food menu, and some careful cocktail precision, this could be the house party of the decade.
Beech Street Parlor
412 NE Beech St.
503-946-8184
Mon–Sat, 5pm–2am