EAT THIS NOW
Earning Their Chops
Chop's retail space on N Williams serves pitch-perfect sandwiches from their in-house curing facility.
From behind a glass boundary, Chop's charcuterie shop looks out over the brunch madness that is Tasty N' Sons. Sated families and jilted foodies with a two-hour wait for breakfast come ambling in to Eric Finley and Paula Markus' meat and sandwich haven across the hallway at the N Williams HUB building. When you're starving and hung-over at noon, that picnic-sized slab of house-roasted lamb looks particularly good. With a grab-n-go sandwich menu, Chop is making things even easier: carefully curated sammies made with some of the best cured meats around town.
Chop is the evolution of the famed Viande meat counter, once co-owned by Tasty N' Son's John Gorham, who worked alongside Finley and Markus at City Market and is now an investor and hallway neighbor to their salami project. They are also among the first in a fresh new wave of superhero butchers in Oregon to sell USDA- certified meats.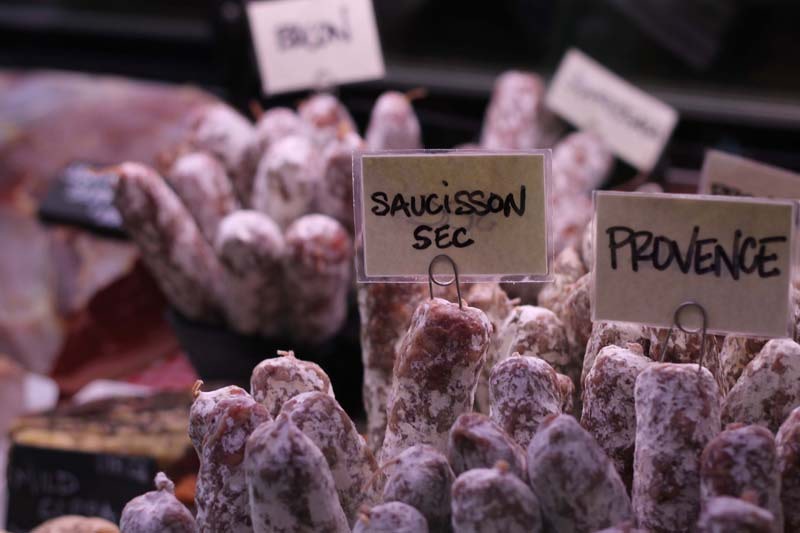 "We didn't want to do the same thing as Olympic Provisions" says Finley, "so I envisioned what a fat French butcher would make for himself: full flavored meats made from only the stuff he wants to eat." Finley and Markus are good on their word; game birds, apples and chanterelles populate their pâtés and salamis this season. "I want my pâtés to scream Fall."
Their six month-old curing facility and retail counter is hidden inside the HUB building. It's a teeny space, and sitting is not an option, but you could spend an hour ogling the pâté mosaics and curls of sausages displayed beneath Chop's gigantic wooden sign.
You can do amazing things with the meats and pâtés below Chop's fluorescent counter, but if you're not feeling particularly creative, Chop's rotating sandwich menu is the ticket. Specials change daily, and you can eat well with a half ($4.50), or feast like a carnivorous king with a whole ($8) between fluffy loaves of Como and flour-dusted baguettes from Grand Central Bakery.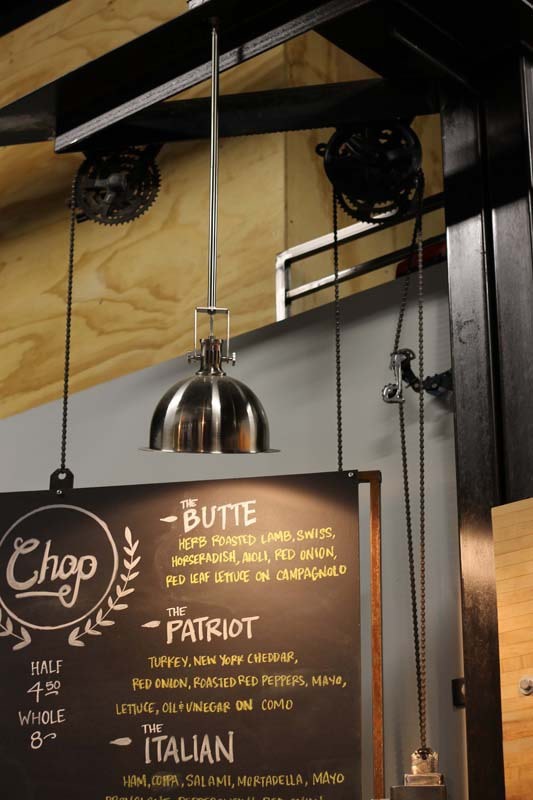 Of the eight options hanging from Chop's bike-chain rigged blackboard, we've got some clear winners:
The Italian
Stacked high with layers of piggy variety, its house-cured ham, spicy coppa, thin disks of Mortadella, and salty salami slide over roasted red peppers and smoky Provolone sustained by hefty baguette halves.
The Rebel
An ode to the classic deli sandwich: perfect with peppered, fat-marbled pastrami, a swab of subtle horseradish, and pickles sliced thin on rye bread.
The Danish
A wonder of textures, this house-cured ham-based sandwich is layered with fresh slices of cucumber, a creamy layer of grassy Havarti, butter lettuce and plush Como bread.
The Frog
If you can steer yourself away from the cured meats, this sandwich is incredible; a pork-rich country- pâté that melts in the mouth with bright green slivers of pistachio swirled inside, all rounded out with pickled red onions on a baguette.
Holiday Cheat Sheet
Chop also keeps a secret weapon for the holidays. In addition to whole legs of ham, king racks of lamb, and Christmas geese, Finley and Markus make the best pâté in town, including a pheasant variety set with sweet bites of persimmon – an instant upgrade to whatever your Thanksgiving might have in store.
Chop
Inside the HUB building
3808 North Williams, Suite E
Wed-Sun, 10-6
503-288-1901
Inside City Market
735 Northwest 21st Ave
Mon-Sat, 9:30-7; Sun 10-7
503-221-3012
PSU Farmers Market (Saturdays)
SW Hall and SW Montgomery