INTERVIEW
Q&A: Fino in Fondo
We sit down with the Italian sausage experts behind Fino in Fondo, Portland's newest cured-meat crush.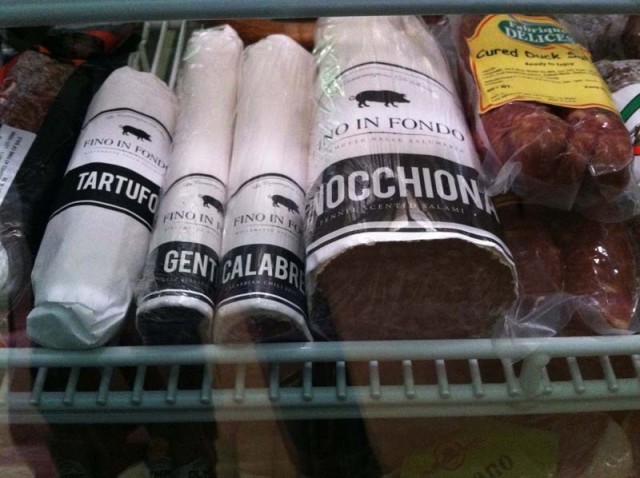 Oregon's salami movement just downshifted into serious Italian territory. Chefs Eric Ferguson and Carmen Pierano have finally opened their new Italian meat-curing lab and tasting room, Fino in Fondo, near their iconic McMinnville restaurant Nick's Italian Cafe.
As Oregon's third USDA-approved facility, Fino in Fondo joins the Olympic Provisions and Chop in a growing local salami scene.
For now, the lineup includes six salamis. Based on a sampling of an early shipment to Cheese Bar on SE Belmont Street, they're all good, pure and concentrated and seasoned with regional flavors, the true Italian way. The toscano, huge and round, is rich with black pepper and steeped in red wine and garlic. The five-pound tartufo is a hunk of self-indulgence, pocked with musky Umbrian black truffles. There are slimmer salamis, too: a link of Calabrese, seasoned with smoking hot chilies from southern Italy; an earthy sopressata aided by garlic and cloves; a tame, red wine gentile; and finocchiona, speckled with fennel seeds.
That's for starters. A whole crop of salumi, from prosciutto (cured ham) to pancetta (cured pork belly) is hanging in their new 3,000-square-foot facility, waiting to be sliced. The meats can be found at the facility and Nick's Italian Cafe, and they're quickly making their way to Portland. We sat down with the pork-loving couple to dig into Oregon's cured-meat renaissance.
What defines your salumi style and philosophy?
Well, it's 100 percent Italian. Every country does its own kind of thing when it comes to cured meats; the sizes, the type of pork, the shapes of the sausage, and especially the flavorings all vary depending on the region. You won't see a salty French saucisson sec or a spicy Spanish chorizo on our menu because Italy doesn't have those spices. Everything for us, the grind, the process, the wine… it's all old-school Italian.
Where did you learn the art and craft?
We both lived and worked together in Umbria, Italy, for a while. In Umbrian culture, meals begin with salumi: it gets you hungry; you munch on it while waiting for people to come to the table—it's a humongous part of daily life. When we started making our own salumi at Nick's Italian Café in McMinnville, the local health inspector caught on and asked us to stop. We figured if we had to go through the whole USDA-approval deal, we might as well do it big and open our own salumeria.
Where did the name come from?
Fino in Fondo in Italian means "Until the End." It refers to our use of the whole pig. We get whole heritage Berkshire boars from Oregon Pork and use every different part in our varieties of salami. We even use the bones for brodo (pork stock), which we will be selling at our store.
Tell us about the new space. Is it a sit-down restaurant?
It's not quite a restaurant, more like a tasting room and retail space. You can come in and buy our stuff, hang out and taste the different kinds and watch the whole process. We have this huge window that looks over our aging room—it holds about 23,000 pounds of cured meat, all hanging in a climate-controlled room.
Apart from your store in McMinnville, where can Portlanders get a taste of your salumi?
Cheese Bar has all of our salamis, and Cathy Whims' Nostrana offers our meats on her menu.
What would your desert island salumi be?
Culatello, hands down. It's basically the prime cut of prosciutto that's tied into a pear shape. I remember the first time I ate it. It was so beautiful…it looks like a meat flower. People call it "the king of all salumi." It can't be imported to the states, so it's been impossible to get here until now … because we make it!
Where do you go to pig out on charcuterie?
Like most Portland chefs, we don't get to eat out much. But I recently tried the Gregory Denton's board at Metrovino, and thought it was fantastic—such a broad range of cured meats.
finoinfondo.com
777 NE 4th Street, McMinnville
503-687-1562
Thur-Sun, 10am-7pm