EAT THIS NOW
Crème Brulee Donut at Donut-O-Rama
Portland's newest donut contender takes Alder Street by storm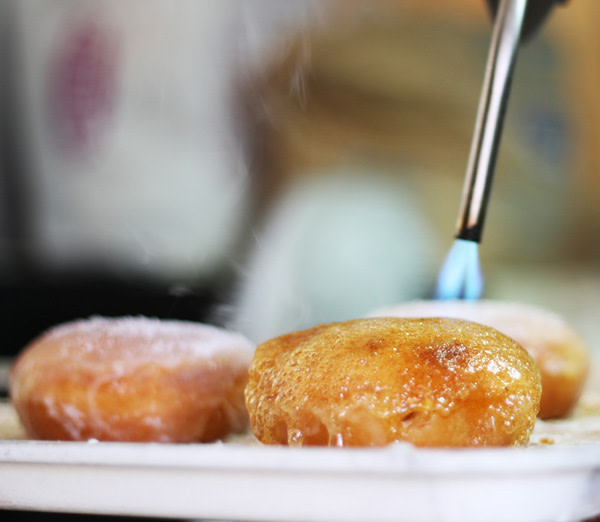 The unmistakable WHOOSH of a propane blowtorch caught my attention as I waited in line at Addy's Sandwich Bar near SW 10th and Alder. "That's the new donut place," Addy tells me, pointing down the street. "We go there every morning now." Donut-O-Rama, a new addition to SW Alder's food cart pod, is Portland's newest donut find: stocked with crazy flavors, good dough, and pyrotechnics to boot.
A few carts down, owner Greg Slauson torched a "Crème Brulee" donut for me. "This is probably our best seller," says Slauson, "It's all about the crunch." True to his word, the round, pillowy dough is pumped with rich, creamy filling, covered with sugar, and superheated into a thick, caramelized shell to order.
Donut-O-Rama sells other flavors, ranging from the familiar (maple bacon bar) to the eclectic (a cake donut, iced in neon purple, Viso Energy drink frosting). Donut-O-Rama is only here for the winter, but Slauson has plans to open a year-round cart, and take his small donut operation to local grocery stores.
Donut-O-Rama
The corner of SW 10th and Alder
503-960-6825
Mon-Fri: 7-2