MENU WATCH
Departure Does Duck
Dig into a feast of Peking Duck two ways while soaking in views of Downtown Portland's holiday lights from the top of the Nines Hotel.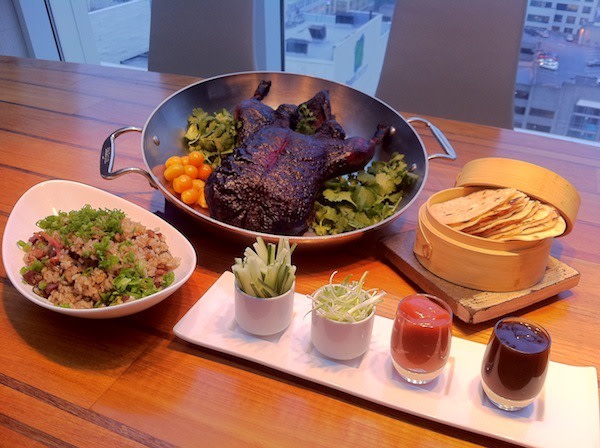 Forget the holiday goose, this year is all about the duck. This week, Departure launched a December dinner special fit for sharing—extra-crispy Peking Duck for DIY pancakes and duck fried rice for four.
Extreme Chef Gregory Gourdet dry-cures the Peking ducks overnight in a mix of spices and herbs, blanches the birds in a bath of Shaoxing rice wine, honey and seven-spice, hangs them overnight to dry the skin, then roasts and flash-fries them to order.
The duck is served with traditional Mandarin crepes, plum sauce, hoisin, cucumbers, scallions, and honey-soaked kumquats for the kind of DIY duck wraps that are hard to find in PDX.
The remaining meat from the duck is used to make a heaping platter of duck fried rice, cooked with duck fat, pan drippings, and duck giblets that have been cooked sous vide overnight with ginger.
The ducky dinner special feeds four hungry diners for $75. Chef Gourdet prepares a limited number of birds each night, so call the restaurant at least 24 hours in advance to reserve yours.
Departure Restaurant + Lounge 525 SW Morrison St; 503-802-5370