EAT THIS NOW
Nong's Hot Sauce Available
Cart legend Nong Poonsukwattana unveils her new line of super secret sauces.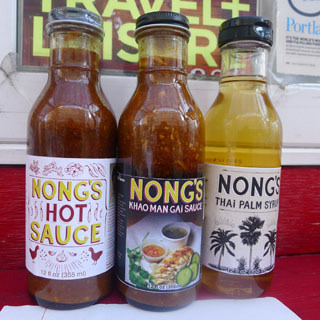 Monday morning greeted downtown strollers with a happy sight: food cart-inspired sauces from Nong's Khao Man Gai. As Eat Beat reported weeks ago, cart star Nong Poonsukwattana is upping her business game, selling a trio of bottled sauces at her Alder Street and College Street locations. The plan is to eventually sell the sauces at Uwajimaya, the Japanese superstore in Beaverton, with an eye on Seattle later this year.
The lineup includes her classic Khao Man Gai sauce, a thick brown condiment steeped in soy sauce, ginger, and garlic; the new Nong's Hot Sauce, similar in taste to the original, but even better — amped up with an extra dose of chili pepper; and Nong's Thai Palm Syrup, a colorfully labeled sugar syrup perfect for cocktails or coffee drinks. Cost: $4.99 each.
Taste tests leave no doubt: the hot sauce is fantastic. But either one can be poured on just about anything, from chicken to sandwiches, for instant satisfaction. For adventurous cooks, Nong's coveted chicken and rice recipe will be up on her website soon for the full Khao Man Ghai effect.
UPDATE: Nong's sauces have been put on hold temporarily due to distribution permit complications. Stay tuned.
Downtown Location:
SW 10th & Alder St.
971-255-3480
Mon-Fri: 11 am-4 pm
PSU Location:
411 SW College St
503-432-3286
Mon-Fri: 11 am-4 pm; Sat, 11 am until sold out