FIRST IMPRESSIONS
Tanuki
Tanuki sets an edgy table for Japanese izakaya – wild, wonderful and unfolding in multiple courses
Through the dim red lighting, a constant stream of raunchy Japanese animation and Tarantino-like violence blares above the bar with J-pop caterwauling from a boom box in the corner. The only way to enjoy a meal at a place like this is with plenty of sake. Tanuki's new incarnation on SE Stark and 81st, is still a den of debauchery, with unbeatable izakaya (Japanese bar food) and a knockout booze list on the cheap.
The menu is a dizzying array of pickled plums, kimchi spice, and fermented noodles. Don't panic, there is an easy way out. Order omakase (basically "chefs choice"): you name the price, and chef-owner Janis Martin will unleash a parade of spicy, salty, and sometimes unidentifiable plates for the whole table. Twenty bucks a head bought us an onslaught of twelve gut-busting courses from cinnamon-spiked, tea-stained quail eggs to Netart oysters under an avalanche of shaved kimchi ice.
Martin's menu is not for the cautious. Some dishes, like the Tantan noodle – a three-alarm fire of thick udon noodles, complete with scorching "chicken sauce," fermented soybean, and raw quail egg – wrinkled some noses, and delighted others. A tangle of shredded, dried squid, re-invigorated with spicy mayonnaise quickly shot to the top of the list, with a chew and texture like the world's best jerky. Even as we approached the twelfth course, there was room for a huge slab of grilled river eel, its rich meat lacquered with a sweet, sticky glaze.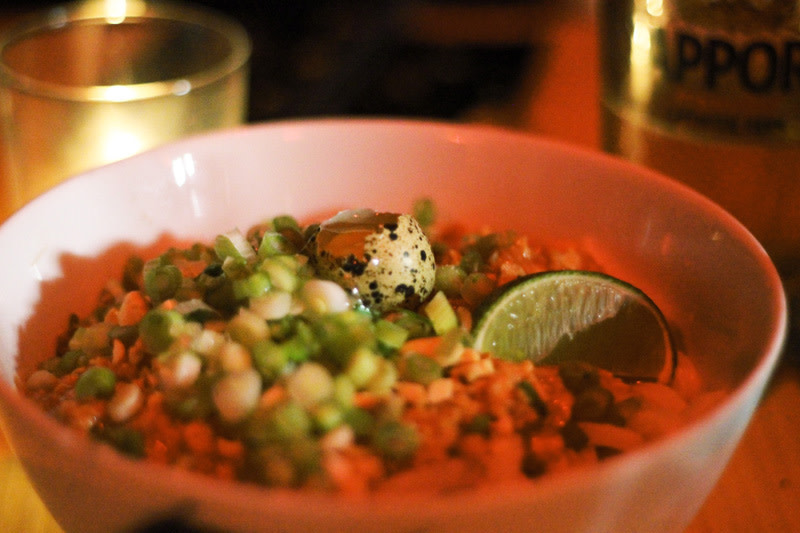 Tanuki is Portland's ultimate Japanese izakaya joint: dark, delicious, and requiring no forethought. Just say omakase (OH-mah-KAH-say)! Grab a bottle of sake for the table, and settle in for an evening of hard eating. Just remember the rules from the original Tanuki on NW 21st: no sushi, no kids.
Tanuki
8029 SE Stark St
503-477-6030
Wed-Sat: 5pm-close (10pm or later)